We're a B Corp. What does that mean?
Commitment to being a force for good has been a part of our company's identity and vision since starting the business in 1991, and becoming a Certified B Corporation in 2013 helped to further codify this long-held value.
B Corp certification is to business what Fair Trade certification is to coffee or USDA Organic certification is to milk. B Corps are certified by the nonprofit B Lab to meet rigorous standards of social and environmental performance, accountability, and transparency
New Belgium's score is in the top 10% of all Certified B Corps in 2016, and we were honored to be recognized with B Corp's "Best for the World" award.
A snapshot of our B Corp score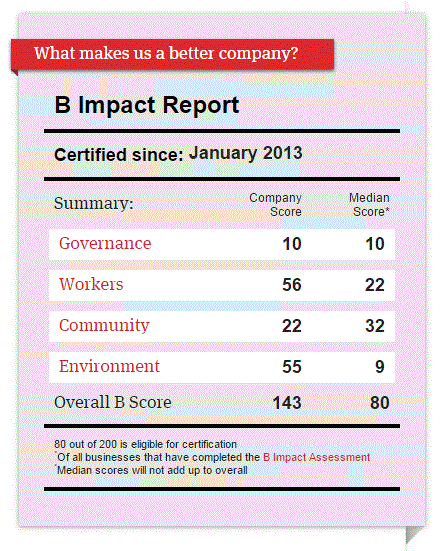 New Belgium knows that we are profitable, not in spite of our social and environmental efforts, but because of them.
By gifting ownership in the company and investing in the happiness of our coworkers, the best of the best join our team and they give their hearts. A 93% retention rate is good for the bottom line. By reducing our water use and donating money to the research and repair of the Colorado River, we are increasing the likelihood that we'll have clean and abundant water for many generations.
And you know what? We aren't alone. Businesses that give a damn are now a movement, and that movement is B Corp.
Today, there is a growing community of more than 2,200 Certified B Corps from over 50 countries and 130 industries working together toward 1 unifying goal: to redefine success in business.
Want to learn more?
Check out New Belgium's full B Corp Impact Report
Learn more about the B Corp movement