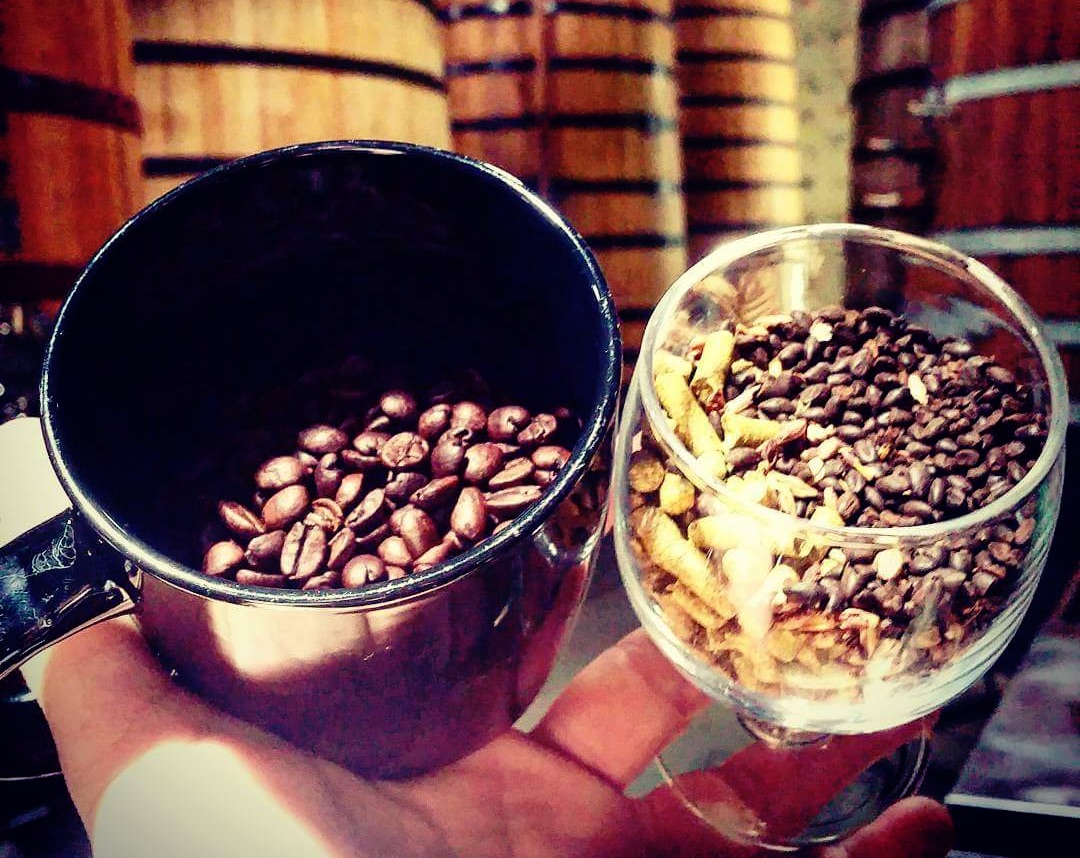 Oscar Worthy Coffee. Three words, that when uttered, cause an almost Pavlovian drool response among New Belgium co-workers. Like our dry-hopped sour Le Terroir, Oscar Worthy Coffee is a beer unlike any other: It's our sour Oscar "dry-beaned" with coffee in collaboration with Fort Collins friends The Bean Cycle. The result is an ultra-smooth sour beer that bursts with sour-and-espresso aromas, and it tastes like magic. So let's take a quick look at how we make the incredible stuff.


A LITTLE BACKSTORY
The beer was born a while back when New Belgium planned to enter a coffee firkin festival in Seattle. An idea to add coffee to a sour was suggested by the manager of the fest, and blender Lauren Salazar ran with it. Initially, Oscar Worthy Coffee was a blend of cold-pressed coffee with Oscar from a single foeder (those large oak vessels aging our sour beer). After that batch, Salazar began experimenting with "dry-hopping" or "dry-beaning" Oscar with whole coffee beans. This led to a collaboration between Salazar and The Bean Cycle's Lesley Brandt in order to pair the right bean with the sour beer. In this case, we use Ethiopian Yirgacheffe.


STEP 1: MAKING OSCAR
Not necessarily a direct step in creating Oscar Worthy Coffee, but rather the initial step in creating many of our sour beers. Oscar's brewed as a brown lager, and then added to our foeders to acidify and condition. There, the beer can sit anywhere from months to years in order to achieve the right flavor profile. Of course, Oscar's just one-half of the sour base beers we use for blending. The other? Well, that's Felix. In total, our 64 foeders are pretty much split down the middle between housing Oscar and Felix.


STEP 2: PICKING THE FOEDER
Each Oscar Worthy Coffee release spotlights sour Oscar pulled from a single foeder; unlike most of our other sours, which include a blend from multiple foeders. Similar to our NBB Love beers, our wood cellar folks choose a particular foeder that's showcasing ideal attributes and personality for the release.


STEP 3: BACKFILLING THE FOEDER
Once the sour beer is pulled from the foeder, we backfill the vessel with sour ale from another foeder, and then top off that foeder with freshly brewed Oscar.


STEP 4: TRANSFER TO STAINLESS TANKS AND ADD THE BEANS
Beer pulled from the ideal foeder is transferred into one of the small stainless tanks we keep in the wood cellar. After sourcing Ethiopian Yirgacheffe beans through The Bean Cycle, which roasts its beans in-house, we put the beans in a sack and steep them in the tank for exactly 48 hours. The particular Ethiopian bean lends vinous, berry and floral tones with notes of chocolate and tangerine to the sour beer.


STEP 5: TRANSFER TO KEGS AND NITROGENIZE THE BEER
After 48 hours of marrying the coffee bean notes with the sour, we transfer the beer unfiltered into kegs and nitrogenize (not carbonate) the concoction, which gives the beer a rich, frothy, cappuccino mouthfeel. In the glass, Oscar Worthy Coffee explodes with a slightly funky, complex coffee aroma, while the sip balances Oscar tartness with chocolaty espresso in a creamy swallow.


STEP 6: THE RELEASE
Oscar Worthy Coffee's released in super-small batches a couple times a year, typically no more than about 20 barrels at a time. Kegs slip out to specialty accounts around the country, and appear from time to time at New Belgium events. So keep an eye out!