What a year we had in 2015, and, boy oh boy, did we brew a ton of beer. With the calendar coming to a close, let's take a look back at all the amazing beers we brought to market, from seasonals to special releases to new additions in the year-round portfolio (all on top of our regular year-round beers). Grab a beer and check out the year that was.
**YEAR-ROUND**
Slow Ride Session IPA
Our new year-round session IPA landed in January, and is packed with tropical Mosaic and Nelson Sauvin hops.
New Abbey and Trippel
In 2015, we updated the original recipes for Abbey and Trippel. It was a gutsy move, but we're pretty darn happy with how it turned out.

**SEASONAL**
Portage Porter
This malty robust porter landed in January, and quickly became our go-to winter beer.
Skinny Dip
We teamed up with Waterkeeper Alliance to raise money and awareness for swimmable waters. In total, this peach-spiked lager helped raise $10,000 for the cause.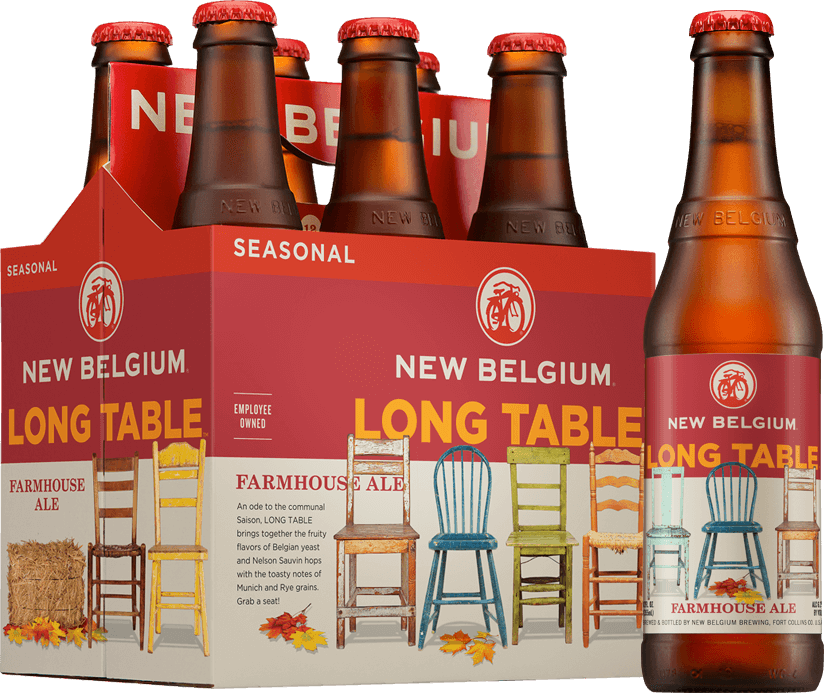 Long Table Farmhouse Ale
Our food-friendly farmhouse ale for the fall was brewed with Nelson Sauvin and Chinook hops, giving this Old World saison a New World twist.
Pumpkick
Everyone was jazzed for the return of our pumpkin ale brewed with pumpkin juice, cinnamon, nutmeg, allspice and cranberries. Like always, this one sold out fast.
Accumulation White IPA
A fan and brewery fave. Accumulation's our winter white IPA colored with Mosaic and Amarillo hops.

**LIPS of FAITH**
Our lineup of forward-thinking, avant-garde releases, including NBB sours.
Cocoa Molé
Inspired by our assistant brewmaster's love for molé, this porter's packed with intense cocoa, chipotle chilies, Gaujillo chilies, Ancho chilies and Vietnamese cinnamon. So. Damn. Good.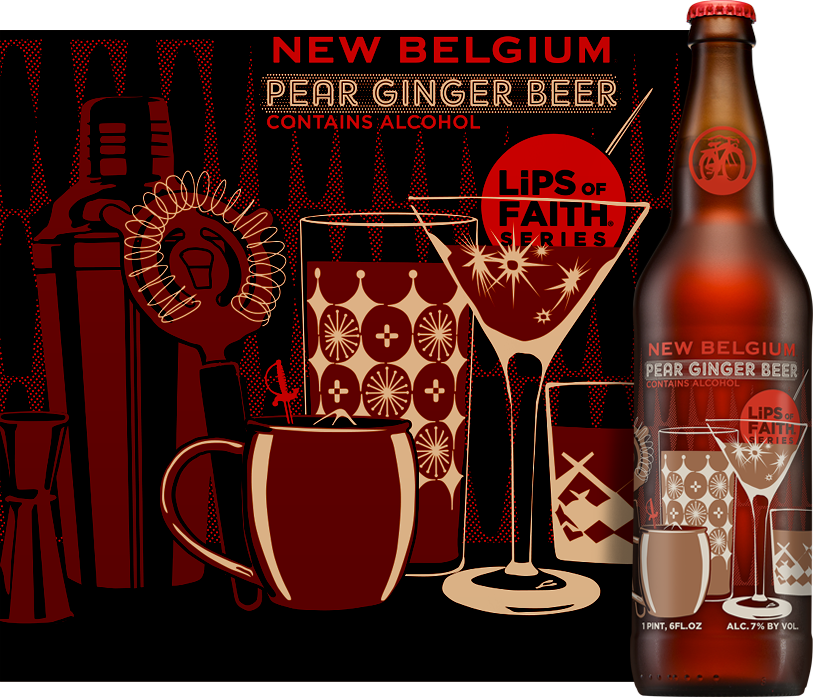 Pear Ginger Beer
Brewed with mixology in mind, Pear Ginger Beer was the perfect beery ingredient for a bunch of inspired cocktails.
Blackberry Barley Wine
This was officially New Belgium's very first barleywine. Based on a traditional English-style barleywine, we added a subtle dose of blackberries to accentuate the beer's fruity notes.
La Folie
Our flagship sour based on Flanders tradition made its glorious return last February during our Lost in the Woods party.
Transatlantique Kriek
Also debuting during Lost in the Woods, Transatlantique Kriek featured a new collaborator from Belgium: Oud Beersel, which shipped us its kriek for the final beer blend.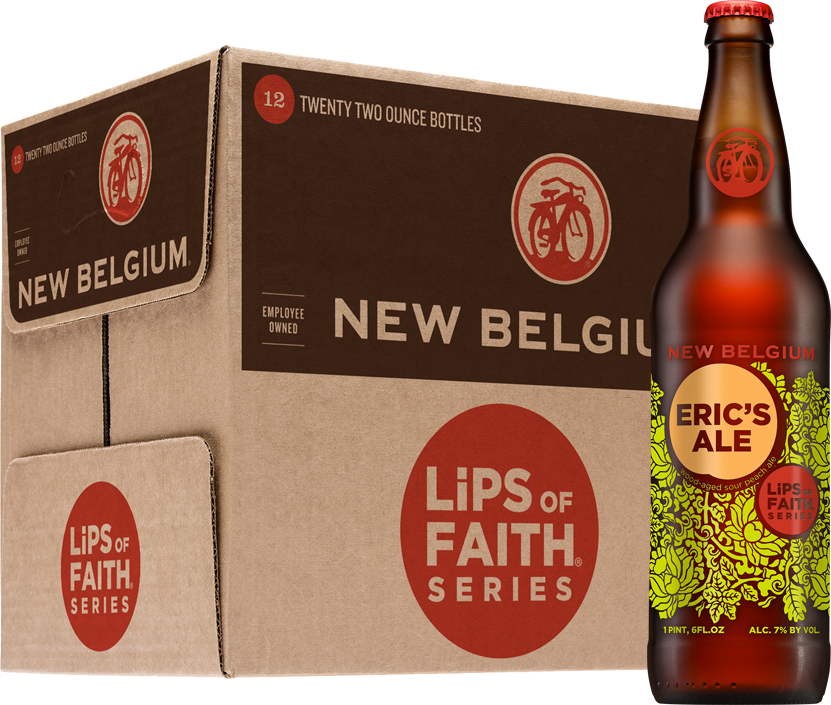 Eric's Ale
One of the most exciting releases of 2015 was the triumphant return of Eric's Ale, our peach-spiked sour made from a blend of sour Felix. Fun fact: Eric's Ale was the first sour release to feature new sour beer from our wood cellar expansion.
Le Terroir
This year, we switched up the dry-hopping bill of this sour to include Galaxy alongside Amarillo. The beer's evolved over the years, and you can read all about it here.

**HOP KITCHEN**
Our experimental hoppy series.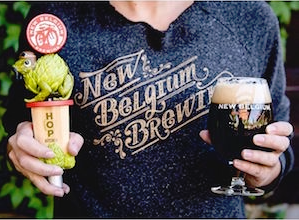 Oatmeal IPA
The first release of our Hop Kitchen series saw the ultra-creamy, hoppy Oatmeal IPA, brewed with oats and dry-hopped with Citra and Centennial.
Hop Tart
Like Snapshot, Hop Tart got its biting tartness from our stainless souring process. That lactic bite married beautifully with super-juicy Nelson Sauvin, Galaxy and Experimental 522 hops.
Hop Stout
Probably the burliest beer we've brewed to date, Hop Stout clocks in at a whopping 100 IBUs and a warming 8% ABV.

**BEERS WITH VRIENDEN**
New to 2015, this is our super-limited collaboration series where anything's possible.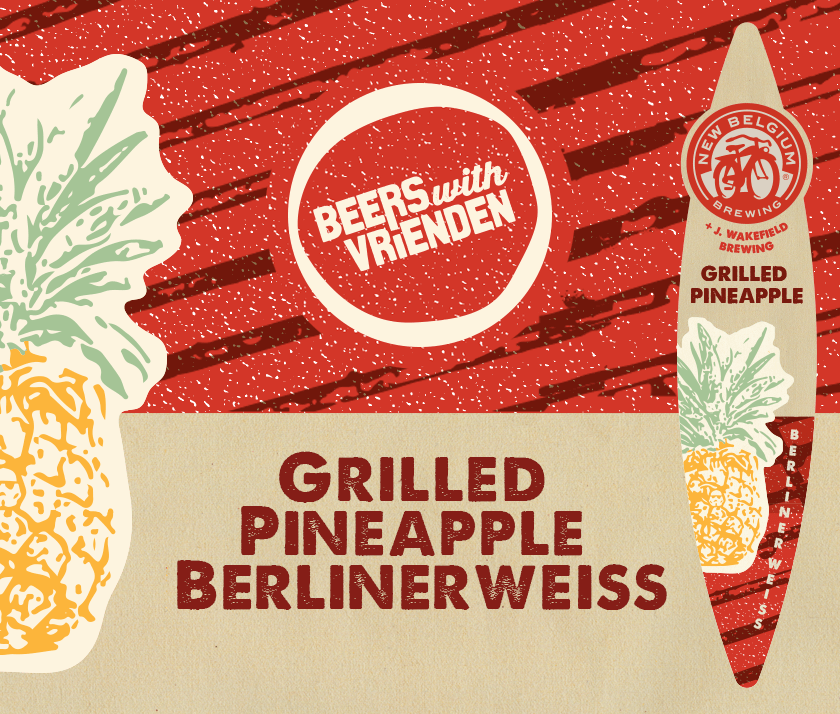 Grilled Pineapple Berliner Weisse
A super tropical Berliner brewed with Miami's J. Wakefiled Brewing.
B-Side Organic Peach IPA
Our B-Corp buddies from Portland's Hopworks Urban Brewery visited to whip up this peach-spiked IPA.
Yours and Mine
This collab with four Charlotte breweries (Heist, Bird Song, Free Range and NoDa) was a beautiful golden ale featuring beet sugar, lavender, Colorado sunflowers and Scuppernong grapes.

Err on the Side of Awesome
Not a collaboration brew, but a collaboration blend with our friends from Berkeley's The Rare Barrel, who added to the amazing story of the barrel pH1.

**REVIVALS**
Beers from yesteryear that made their way back into our Revival Folly Packs.
Porch Swing
A nice round Belgian-style single ale.
Somersault
Ginger, apricot a dose of Centennial hops and Hefe yeast packed this beer with tones of fruity, spicy flavors.
Hoptober
A little of everything: Wheat, rye, oats, pale malts and five hop varieties. Yep, it's an action-packed beer.
Snow Day
A nice, roasty beer with a burst of piney hops.

**SPECIAL RELEASES**
Ben & Jerry's Salted Caramel Brownie Brown Ale
Probably our most-anticipated release in 2015, Salted Caramel Brownie Brown Ale was a collab with Ben & Jerry's to raise awareness and money for Protect Our Winters (POW). Plus, Ben & Jerry's made a complementary ice cream.
Oscar Worthy Coffee Nitro
Oh, Oscar. This super-limited draft-only release features sour Oscar that's dry-hopped with coffee beans and nitrogenized.
Lightning in a Bottle
A massively dry-hopped Berliner weisse made for the Lightning in a Bottle Music + Lifestyle Festival.
Planet Bluegrass Summer Bliss
A summer helles beer brewed for our longstanding partnership with Planet Bluegrass.
Mary Jane Ale
A pale ale brewed every season for Winter Park Ski Resort in Colorado.
Carnie Blood
A blood orange radler poured exclusively at our Tour de Fat festivals.
Film Noir
A sweet-and-bitter milk stout that's served at all of our Clips Beer & Film Tour venues.