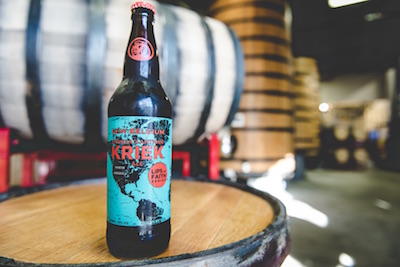 It's not just a name: Transatlantique Kriek really is a transatlantic collaboration. This year, we're teaming up again with our good friend Gert Christiaens of Oud Beersel, an award-winning Belgian lambic producer, for the return of our favorite hybrid beer. Time to get excited.

So, how is this beer a hybrid? Well, Transatlantique Kriek's actually a blend of three beers: A full-bodied golden lager crafted by New Belgium brewmaster Peter Bouckaert, a portion of sour ale from our wood cellar foeders, and a Kriek (aka cherry lambic), shipped by sea all the way from Oud Beersel.

"The growing popularity and interest of lambic-style beers is nice, because it's an appreciation of the heritage that we are protecting," says Christiaens, who now runs the 134-year-old brewery Oud Beersel. "This collaboration with New Belgium will maybe enlighten people to respect traditional lambic."

As sour beer lovers, we're pretty excited that Christiaens was up for the joining in on the fun for a second year in a row—his Oude Geuze and Oude Kriek are two of our favorite sours, and he's an old friend we first met during our yearly pilgrimage to Belgium. For his part in the collaboration, Christiaens created a traditional kriek, adding whole cherries to young, six-month-old lambic, where it conditioned for another six months. Once matured, we shipped roughly 150 barrels of the kriek to our brewery in Fort Collins, Colo., where it was integrated into our strong golden lager/sour ale blend, creating a profile of fresh, fruity cherries and tart lactic acidity propelled by swift, Champagne-like carbonation—and topped off with eye-catching pink foam, of course. Get ready for this beer's return in February.

Check out New Belgium's entire sour beer portfolio.