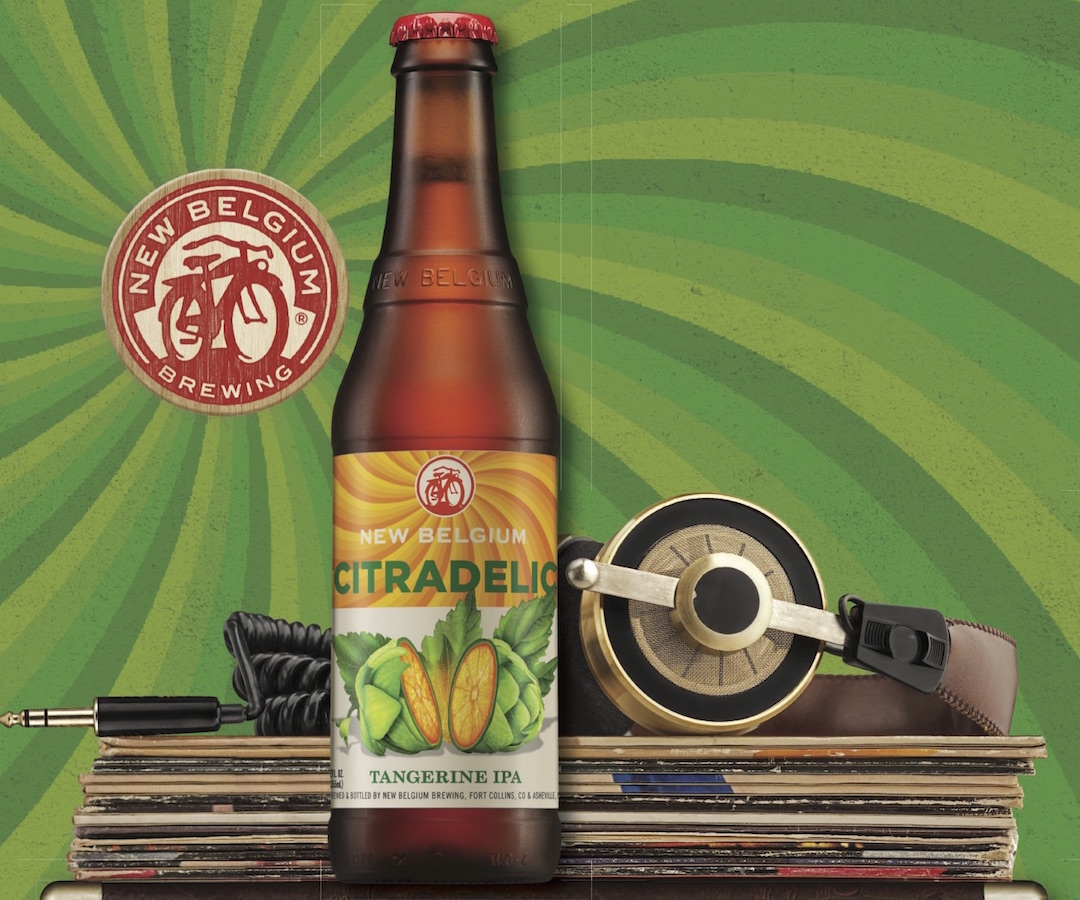 Over the last few years, we've developed quite the obsession with interesting, new hop varieties; an affinity that was on full display in 2015, especially with the release of Slow Ride Session IPA. Well, we're taking that a step forward in 2016 with the release of our brand-new year-round beer Citradelic Tangerine IPA.
Set adrift on a kaleidoscopic wave of hoppiness brought to you by a mystical marriage of Citra hops and tangerine peel, which elevates each sip onto a plane of pure tropical, fruity pleasure. Citradelic's namesake hop and fruit additions jam with visions of additional hops like citrusy Mandarina Bavaria, tropical Azzaca, and fruity Galaxy for a colorful explosion that's grounded by just a touch of malty sweetness.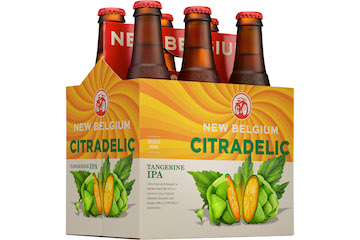 "We initially set out to find yet another friend in our hoppy beer portfolio," says New Belgium pilot R&D brewer Ross Koenigs. "We have hit a lot of the classics of IPA—American, imperial, session—so for this beer, our goal was to create a hoppy beer that screams fruit. We achieved this with a star-studded dry-hop list: Citra and Galaxy give the tropical and peachy aroma, Bavaria and Centennial give great citrus aromas and Azzaca gives a combination of soft mango and classic stinky West Coast hop profile. Combine them all together, and you get a complex and varied hop aroma. We chose tangerine peel because it best complemented the hop character."

Looking at ingredients, Citradelic has a lot going on. Nine different hop varieties include Nugget, Cascade, Crystal, Galaxy, Mandarina Bavaria, Centennial, Azzaca, Citra and Chinook. We've got a grain base of pale, Munich, Caramel and Midnight Wheat malts. Then, we add in tangerine peel, orange peel and orange for an extra fruity kick.

Citradelic sixers and kegs officially hit the market today, and it will also be included in our first Folly Pack of the year, also hitting today. Plus, it's slated to appear in our canned Folly Packs throughout the year (which is going to be awesome).

Get ready for a mind-bending IPA in 2016.

Want even more hops? Check out our collection of hoppy beers.