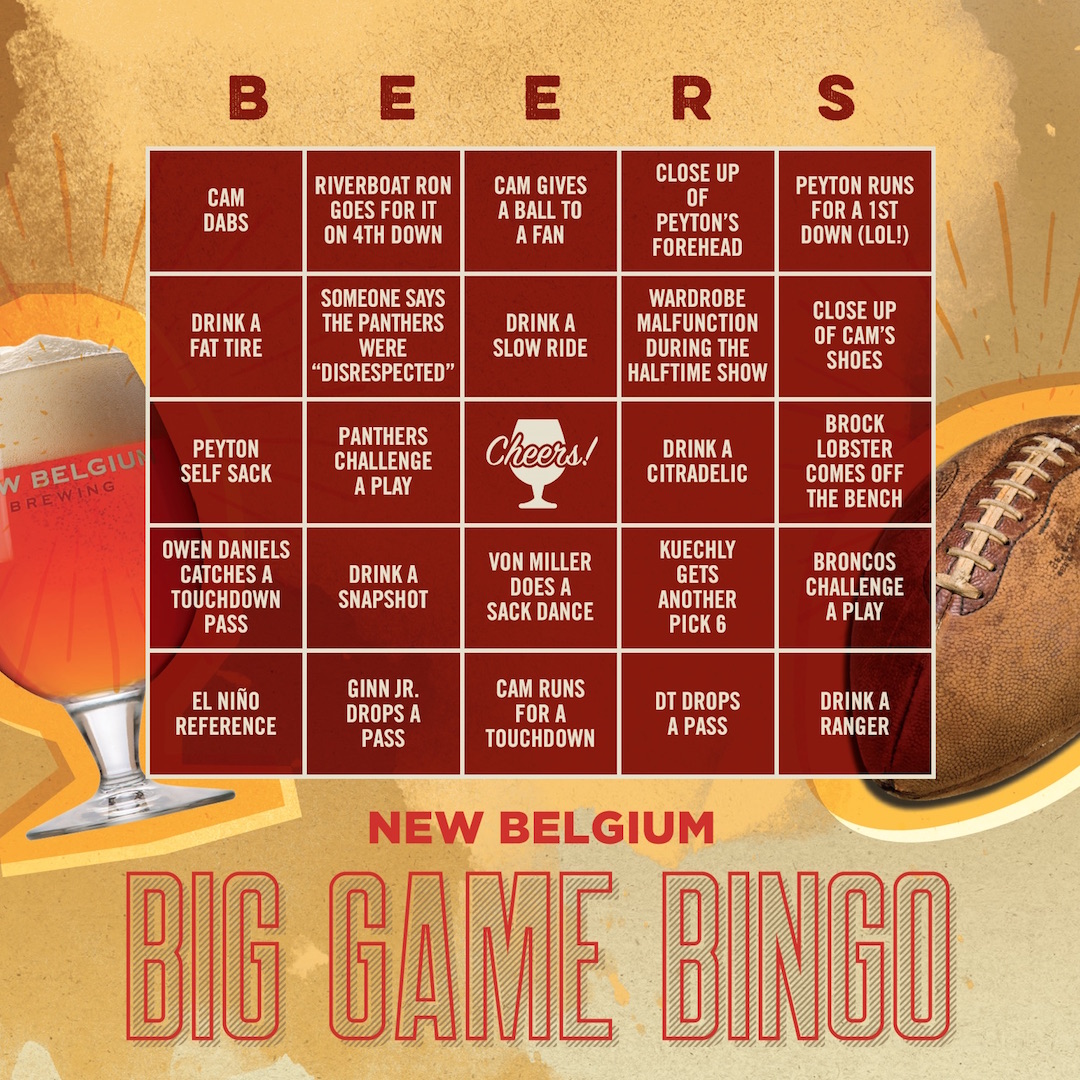 New Belgium's based in Colorado, and we're just about to open a second brewery in Asheville, N.C. So, as you can imagine, we're taking this year's big game a bit more seriously than most. Monday morning we got to thinking, "Hey, how can we turn this matchup into a game that every coworker can win, no matter if they live in North Carolina or Colorado?"
Well, here's the result. The official New Belgium BIG GAME Bingo, uh, Game! It's filled with fun Easter eggs such as Peyton running for a 1st down (which would be great, but like, c'mon…) and Riverboat Ron taking a gamble. You can download all 10 cards, print 'em and play along with your pals next Sunday.
BIG GAME Bingo Game isn't the only reason to sip on a brew on Feb. 7, though. Here are four other reasons to crack open some bottles.
When Coldplay turns out to be a big snoozer
How many BIG GAME half-time shows do you really remember? Like, really remember? There's the infamous nip-slip, the ridiculous crotch slide, that left shark, and…well…that's it, right? So, when all the hype around Coldplay deflates like Brady's balls, it's time to pop open a few Citradelic IPAs—that crazy-awesome tangerine and orange profile will keep you engaged while you flip over to the Puppy Bowl.
When your BIG GAME guests talk about everything but the BIG GAME
We get it, little Johnny's teacher says he's surprisingly adept at learning French, for a kindergartener. But, you could have saved that story, plus every other non-BIG GAME anecdote, for the Bud Light spot during commercial break. We're watching the BIG GAME here. Pro-tip: Pop open an Abbey and inquire whether little Johnny knows how many Trappist breweries there are in France? (the answer is zéro…who's good at French now?). To suppress most off-topic conversations, offer your guests Abbey or other complex beers like Trippel, 1554 and Rampant to confine their attention to what's in the glass.
When the BIG GAME is a blowout
OK, so the game isn't quite as riveting as you were hoping. Excitement has left the room. The unpredictable just became predictable. How do you inject a little bit of nail-biting energy back into the event? Time to pop open your secret weapon: The New Belgium Folly Pack. Which beer will you pick first? What kind of strategy will you follow as you work your way through the selection? You're the coach here. You're calling the shots. Audible!
When you're exhausted with the "What will Peyton do?" post-BIG GAME talk
If you've been drinking low-ABV beers all day like Slow Ride, Blue Paddle, Snapshot or Sunshine, we know what you'll be doing after the BIG GAME: drinking a few more tasty, sessionable beers. As for Peyton, who knows, but he's always welcomed to swing by New Belgium for a few beers, whether he's retired or gearing up for a productive off-season.

Have a great game, y'all!