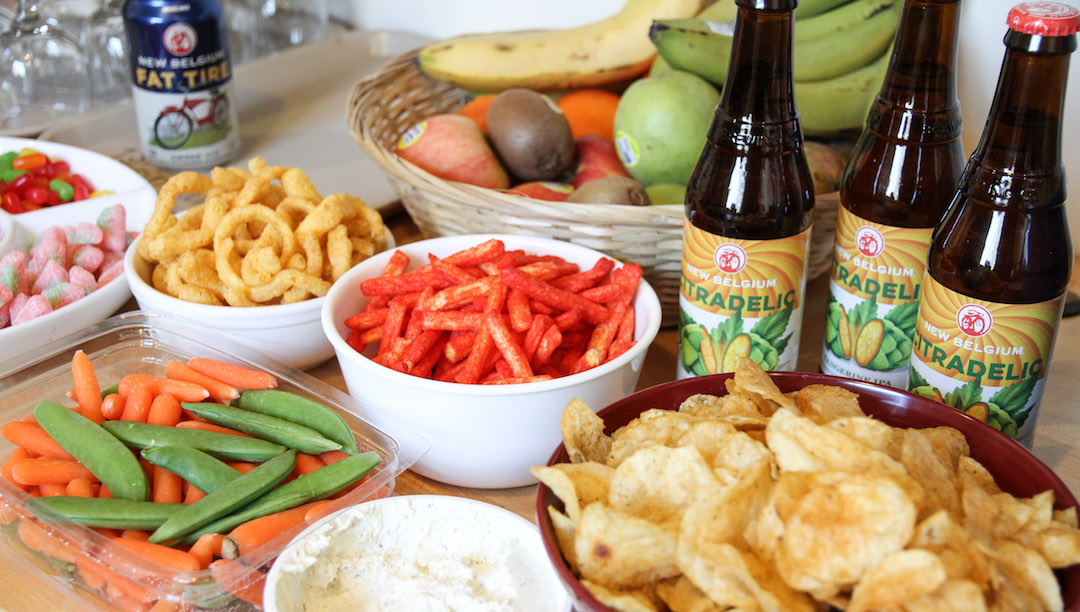 The BIG GAME is almost upon us, and while the Broncos and Panthers finalize their game plan, we're finalizing our beer-and-food pairing game plan. After all, S*P*R Bowl Sunday isn't Super without a spread of delicacies paired with a fridge of tasty New Belgium beers. So, we hit up some co-workers to ask, "What's your favorite BIG GAME beer and food pairing?" Here's what they had to say:
LINDSAY BARR
Sensory Specialist
"Lil' smokeys and 1554! YAY!" Plus, this special tip: "Ranger with anything salty makes the bitterness seem less dramatic because salt suppresses bitter. So that's a fun flavor trick."
TANYA VICTOR
Sales Talent Development Coordinator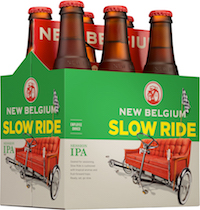 "Spicy, citrus cocktail shrimp with Slow Ride: Spicy goes well with hop bitterness, citrus also goes with the citrus notes of the hops in Slow Ride."
"Lemon dessert anything with Snapshot: Crisp, citrusy tartness of Snapshot playing with similar citrus tartness of the dessert, but with the added depth of a bit more sweetness and some buttery pastry notes to round it out."
"Barbecue chicken wings with 1554: 1554 and its roasty notes go well with smoky barbecue, and the malty sweetness plays well with the barbecue sweetness. 1554 being a lager cleans the pallet nicely for the next bite."
"Citradelic with a pepper jack-and-pineapple burger: Pineapple notes play with citrus hop characteristics. Spicy element of pepper jack playing with pleasing bitterness of hops. Hoppy bitterness, carbonation and alcohol would wash away the creaminess of the cheese. May I have another bite? Yes puhhhleease."
KYLE DICKEY
Sales & Service Rep
"1554 with barbecue bacon-wrapped cocktail sausages: Score extra points from pairing the talents of smoky sweet barbecue bacon-wrapped little sausages, with the dark malty sweet, roasty and toasty complementary notes of 1554."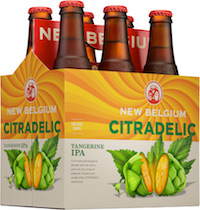 "Citradelic with Asian chicken wings: Citradelic brings its 'A' game with bright notes of tangerine, tropical fruit, and a lemony-citrus zing when teamed up with garlicky Asian chicken wings."
"Trippel with pesto shrimp-stuffed potato skins topped with smoked Gruyere: The slightly sweet, spicy and herbal notes of Trippel tackle the taste buds when paired complementary-style with pesto shrimp-stuffed potato skins topped with smoked Gruyere."
MICHELLE HOLBROOK
Field Marketing Administrator
"Ranger IPA with goat cheese on toast topped with grilled peach slices: Citrus hop goodness will compliment those sweet peaches and tangy goat cheese balanced by the caramel backbone."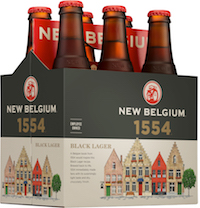 "1554 with bacon-wrapped cream cheese-stuffed jalapeno halves with a cherry chipotle dipping sauce: Tame the heat, cut the fatty bacon and cheese, and the inherit roasty sweetness of 1554 will play well with the smoky-sweet chipotle dipping sauce."
GRADY HULL
Assistant Brewmaster
"Transatlantic Kriek with a nicely marbled rib-eye steak or prime rib: The tartness from the Kriek cuts the grease from the steak and the two are both flavorful enough to hold their own against each other. This one, in my opinion, is a contrast pairing. They don't taste similar but they make each other taste better because they bring out the flavors between every sip and bite by resetting your palate.
CODY REIF
Pilot Brewhouse Coordinator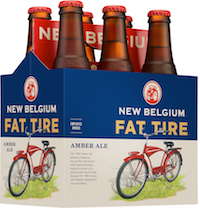 "Fat Tire and sliders with caramelized onions: Nice biscuit aroma and taste from the bun. Caramelized onions are sweet and caramel-y with an herbal note that plays with the caramel malts and hops."
NIC TURICIANO
Social media/Content Creation Specialist
"Bacon-wrapped dates and La Folie; Or, those tiny little weenies and beer; hot dogs and beer; chips and salsa and more sals; cheese puffs. Cheese puffs are great; asparagus and beer so that everyone's pee smells funny." THANKS NIC!
ROSS KOENINGS
Pilot Brewer/R&D Coordinator

"Blackberry Barleywine goes great with my sadness that the Packers didn't make the Super Bowl." Sorry Ross. GO BRONCOS (AND PANTHERS, I guess).
Hungry for more important BIG GAME coverage?