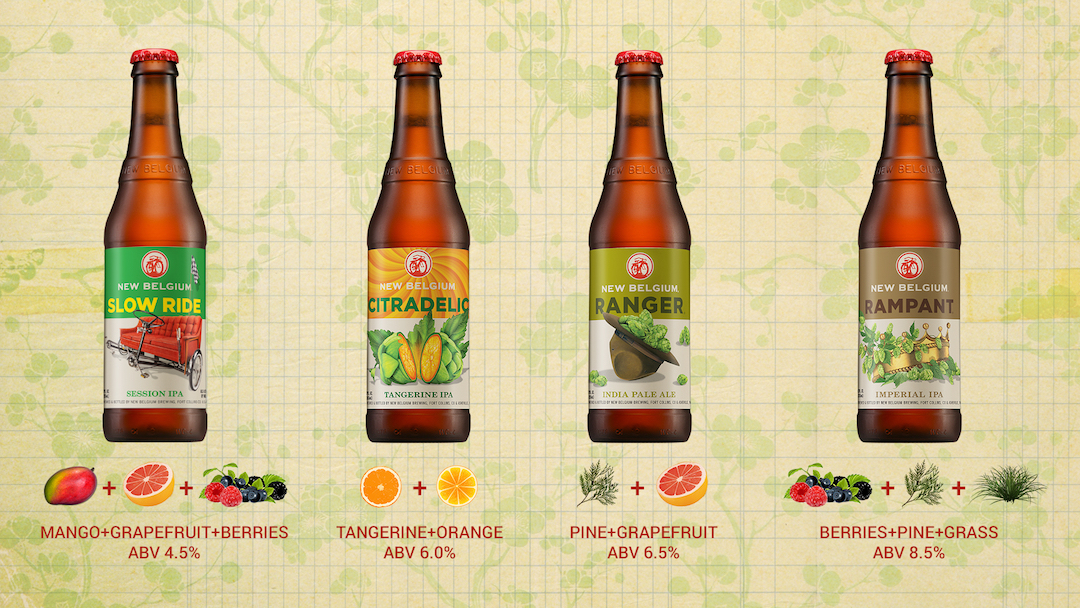 Decisions, am I right? What's the deal with those things? Everyday, we're faced with ridiculous choices—no matter how miniscule—that'll likely cause some butterfly effect. Before you know it, you're on a fishing boat bound for the South Pacific instead of packing for a weekend with the buddies in Moab, simply because you chose apple butter instead of low-fat two months ago. The stress, man.
Well, we're not trying to cause that kind of strain on your psyche when you're looking for something hoppy to drink. Let us simplify your choices a bit with this handy guide on how to select a New Belgium India Pale Ale. If the straight-forward flavor graphic above isn't quite getting the job done, here's a bit more direction for you. Choose with ease, fellow beer-drinking friend.
When you have things to do later today
Is your day back-ended with chores, but you have a few hours right now to chill out with a beer or two? Simple: Slow Ride Session IPA. The accommodatingly low 4.5% ABV means you can knock back a couple and still be a responsible, contributing member of society a few hours later. Be the best version of yourself you can be, and enjoy Slow Ride's blast of tropical mango, grapefruit and berries while you're at it.
When you have a hankering for citrus, but can't find any in the house
It's a modern day dilemma: You've got a strong urge to bite into something citrusy, but all you have are those mealy Red Delicious apples in the fruit bowl. Why do you keep buying those things? Idea! Crack open a Citradelic Tangerine IPA. Brewed with tangerine and oranges, Citradelic pops with—you guessed it—bright tangerine and orange tones, satisfying that citrusy urge. Go ahead, scratch that itch with a beer. You're a grown-up.
When you want to stay true to your roots
Apple pie. Baseball. Other things that are iconic. Our Ranger IPA is brewed with the hop that came to define the modern craft beer profile: The piney, grapefruit-y flavors of the OG Cascade hop. For years now, New Belgium's sourced Cascade from our friends at family-owned Segal Ranch, which first planted Cascade back in the 1960s, before the hop even had a name. So if that doesn't help you center yourself in good-tasting, hoppy nostalgia…well, it will.
When time is on your side (because it usually isn't)
Hey, look at you with all your responsibilities put to bed for the day. Good on you. Now it's time for the reward: Rampant Imperial IPA. The potent wash of Rampant's berries, pine and pungent grassy notes, as well as its heady 8.5% ABV, is one way to toast to a day well done. A second Rampant makes two ways to toast. Get loose. You've got all night.

BONUS: When you're looking to try something new, check out our brand-new draft-only Hop Kitchen Botanical Imperial IPA, hitting taps RIGHT NOW.

DOUBLE BONUS: Swing by our New Belgium IPA page to read up on all the hoppy details.