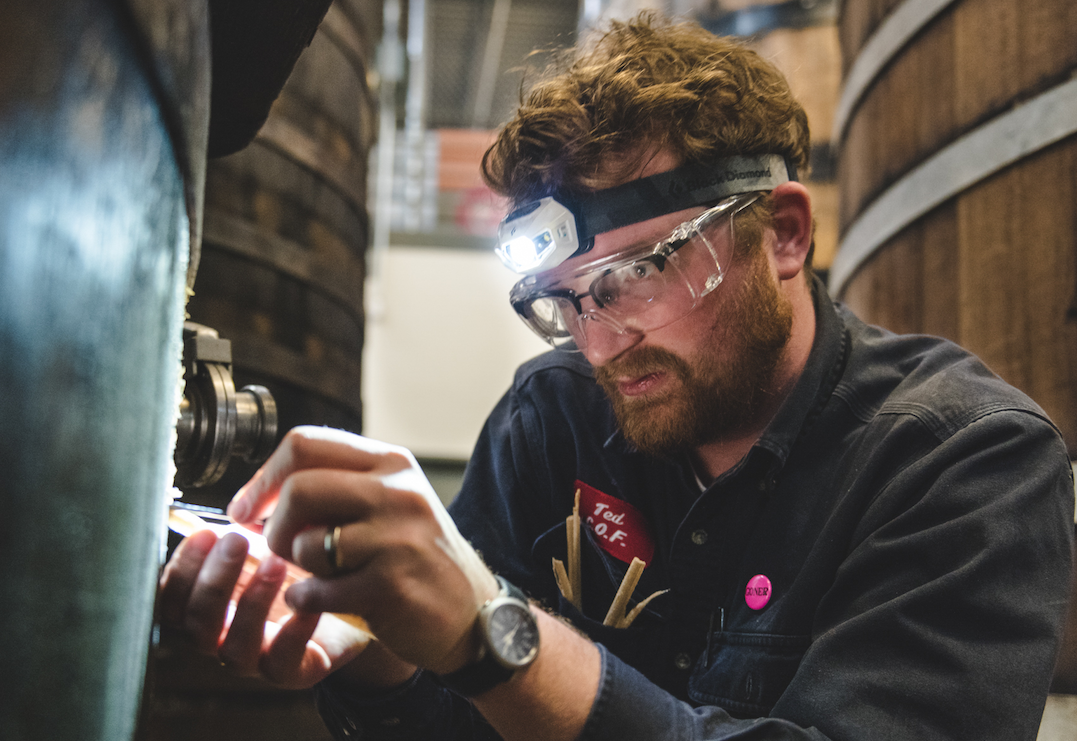 Back in 2008, New York-born Ted Peterson was living in a tiny Idaho town of 250 people, working in housing and development, and nursing a serious itch to switch careers. After the housing market crash opened up Peterson's 9 to 5, he hit the road on a three-month brewery tour through the Pacific Northwest (camping in his car the entire way). Soon after, he traveled to Fort Collins for a Colorado State University course on brewing science, and scored a job at Fort Collins Brewery. In 2012, he landed a spot on the brewing team at New Belgium, just in time for its epic 32-foeder expansion in the wood cellar. Today, Peterson now finds himself in the very niche space of brewer and wood cellar cooper, making him one of the few people in the industry equipped to repair and maintain two-story French oak foeders, and brew the beer that goes inside of them. What's that like? We sat down with Peterson to find out. Bonus: Read how Peterson recently won New Belgium's newest foeder in a bowling game.


Tell us a little bit about your role in the wood cellar.
I've been a brewer at New Belgium for a little more than four years now, and working mostly in the wood cellar for the last two-plus years. I consider myself to be a brewer who also happens to be a junior-apprentice-wannabe-cooper. I'm a brewer and I also hit foeders with a hammer sometimes.
What's maybe not said about my job here is that on the one hand, you have a very hand's on Old World swinging-a-hammer, John-Henry-type of job. On the other hand, once in a while, I'll sit down and be very considerate and thoughtful about flavor profiles and blends. It's a bit of manual labor but there's also the creative, thoughtful side. That's something that's not lost on me.
Your office is essentially a collection of living, breathing ecosystems. What kind of energy do you pick up from that?
Well, it's never static and it's never boring. It's usually a very engaging place to be. Even if a foeder springs a small leak, which you wouldn't ever wish to happen, it kind of brings you in and you become a part of it. And usually we have some cool tunes playing throughout the whole wood cellar, sending down some vibes that way, like Sam Cooke's positive energy.
In total, what's the volume of beer the wood cellar crew works with?
Close to 8,000 hectoliters, which is about 7,000 barrels of sour beer.
Tell us a little bit about the foeder expansion that happened a year after you joined New Belgium?
We were able to buy 32 foeders at one time, which is probably unprecedented in foeder history. They sat for eight months on their sides and lost a lot of weight just from evaporation; almost 200 gallons of liquid evaporated from the staves of each foeder. They were in rough shape. We got them, maybe made them into worse shape, and then worked to get them back again. I'm a brewer, but I happened to be put in a position where I was able to learn more advanced coopering techniques during that time. Working on two-story foeders is much different than working on wine barrels. We're talking 12-feet by 7-feet in diameter of liquid pressure.
So you basically learned how to maintain foeders on the job?
I was part of a really unique opportunity to be involved in the rehydration and rehabilitation of those 32 foeders. Eric [Salazar] was the first person to show me some of the tricks to fixing small leaks, but when we brought in the 32 foeders, we had to get creative as daily we were seeing many things we'd never seen before. We learned a lot through experience, and I think we did a pretty decent job just by ourselves. Eventually, we hired a 6th-generation French cooper named Pierre to come and school us on some techniques. He was here for a week and we gained a ton of knowledge through that, as well as some larger and more appropriate tools.
About halfway through that visit, we had a broken stave and we needed support. It was a crash-course very specific to our situation, and that's how we learned how to take out a stave and replace it. Last week was the first time we did it on our own.
How does one go about removing a stave from a foeder filled with sour beer?
When removing a broken stave from a foeder, the entire process is mapped out in advance. The sour Felix inside the particular foeder we just worked on was tagged for incoming Leopold Bros. Apple Whiskey barrels, as well as this year's Tart Lychee, so we planned to move the entire contents of that foeder—a rare instance. That also involves cleaning the transfer hoses and pumps, identifying and cleaning the tank that the beer will be moved into, moving the beer, rinsing and cleaning the foeder, making sure we have a bunch of our crew available to remove the stave—both as a training experience and also because it takes a lot of pairs of hands to accomplish that task—and getting a replacement stave cut to the exact size of the removed stave.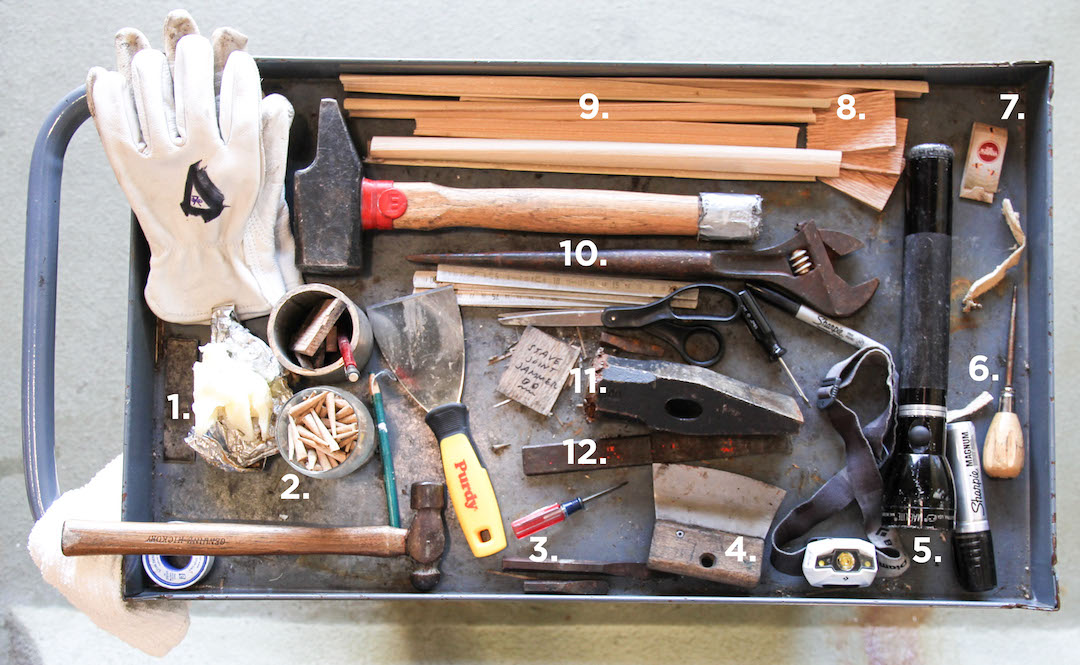 Ted's tools of the trade: 1. Beeswax for closing seams around foeder door. 2. Wooden spiles, used as small hole stoppers. 3. Small flathead screwdriver 4. Wood scraper, used to determine the grain direction of the wood, and help identify where a leak is occurring. 5. Flashlights come in handy. 6. Scratch awl, used for widening a pre-existing hole to fit plugs. 7. Toothpicks, for plugging small leaks on the bottom of foeders. 8. Wooden wedges, which are driven into leaky staves. 9. Reeds, for filing leaking seams. 10. Big wrench, used on the nuts of stainless foeder doors. 11. Big metal wedge, used for fitting metal rings around the foeders. 12. Small metal wedges, used for cutting into staves to help repair leaks.
Out of New Belgium's collection of 64 foeders, do you have favorites and least-favorites?

Trick question. I don't think I could pick, either way. There are foeders that I have an affinity towards because they didn't need much help in rehab; they hydrated quickly and, now with beer in them, don't leak much. But, I have a different kind of affinity for some of the foeders that were much more problematic, made me sweat a lot more, and spring leaks from time to time. I appreciate the ones you really have to work for. Generally, some of our best beer comes out of those foeders.
Are problematic foeders a reoccurring issue you have to deal with?
Yeah, for example, there's foeder No. 39. There's a leak on the bottom of the foeder's north-east corner, but then you hit it with a hammer and it doesn't leak. Then it does again. There are some recurring things like that, where you throw everything you have at it, and then it will pop back up again. Some of the leaks are just confounding. They're all resting on crossbeams, and of course the leaks are always right on the cross beams.
Do you just chalk up leakage to part of the process, like a distiller does with angel's share?
I don't, but I probably should. If I walk through the foeders and I see a leak, I see two problems: One, the beer's not in the foeder and, two, there are public tours running through there so it reflects on me. I take it very personally. If there's a square-inch of beer on the floor after the weekend and no one has cleaned it, I'm like, *gasp*, but it's really just a small, small bit of beer. Seasons change, temperatures change, the wood changes.
Being both a brewer and a cooper, what's your day-to-day typically like?
It depends. Today was totally a reacting/fixing/healing day, as Mondays usually are after we don't have a ton of coverage back here on the weekends. Other days, I'm doing more with our small barrel program, like buying and selling barrels, planning the filling and emptying of fruit-whiskey-sours, planning a tasting schedule, and working with wood cellar manager Eric Salazar and blender Lauren Salazar about short- and long-term planning.
Most of the wood cellar work is, in some way at its basic level, facilitating the aging of regular beers into mature and delicious wood-aged sour beers.
Given your super-specific skill set, do you plan to document your processes as a guide for foeder maintenance?
Yeah, one of the projects I'm currently working on is kind of a foeder cooperage training manual for internal use. It includes training, references, etc., as there isn't much info available online in English about some of the things we run into. The skills for foeder repairing is four-stage: knowledge, tools, experience and confidence.