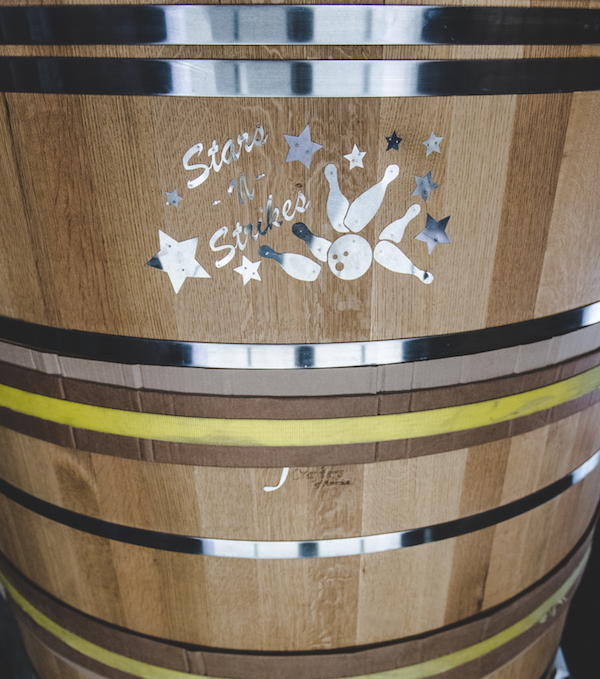 Today, we have the very rad
Ted Peterson of the wood cellar
guest-blogging to tell the hilarious story of how we scored our most recent foeder, named Stars and Strikes. Without further ado, #TedTalks:
UPDATE: It's been over a year since we received and filled our 'win' from our friends at Foeder Crafters of America and we're so excited to announce the beer will be released this Saturday, 8/12. This is especially exciting on a couple of fronts; this is the first American oak foeder to join our forest of 65 French oak foeders and this release is the first turn from #65. That means you get to experience the amazing subtle barrel characters of American white oak interplay with an unblended dark sour. Notes such as vanilla and coconut that play beautifully with attributes that our house mix culture offers, such as plum skins and cherry Coca-Cola. We doubt this barrel will ever express these notes again.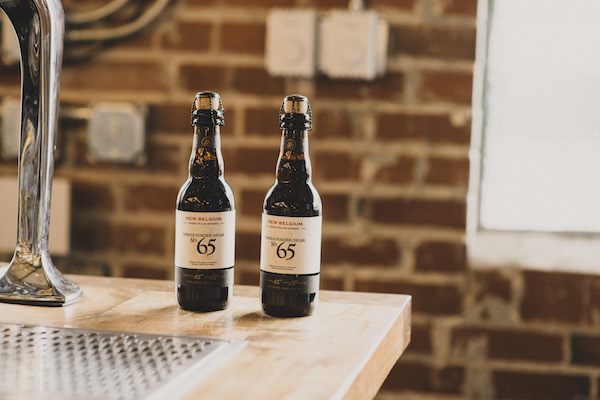 Now onto Ted:
Last year I had heard of some guys in Missouri who had started making foeders out of new American oak near St. Louis. I'd never heard of such a thing and naturally was very excited and curious. I reached out to them, told them that I had been working with the foeders at New Belgium, and would love to come check out their shop. They said 'of course,' so I drove out there. I spent an afternoon hanging out at their shop in O'Fallon, Mo., talking foeders with them while they worked, and then we shared some beers and a very natural long-lost-feeling friendship was born.

I stayed in touch with Matt and Justin of
Foeder Crafters of America
over the coming months and when wood cellar blender Lauren Salazar and I went to St. Louis to present a Sour Symposium in early January, they came to see us. After our presentation we hung out at the bar next to the event space for a bit.


There was a bowling alley next to the hotel that we were staying at, where Lauren and I rolled a game the previous night with some brewing buddies, so it was suggested that we go again, and Matt and Justin along with us and the New Belgium St. Louis crew (Adam Satz, Kerry Bryan and Kelsey McClure came in from Chicago) ventured over. It was fun. At one point later in the night Matt and Justin made a bet that if I picked up a split—an IMPOSSIBLE shot—I would win a foeder. I didn't, but about 10 minutes later they made a strike-bet for a foeder against me on the next frame. I slowly walked up to the lane, rolled the ball, immediately turned to face the crowd all as they chanted, 'TED, TED, TED, TED!!!!' Facing everyone, I cupped my ear with my hand to hear the strike. I felt it was happening.


When all the pins fell over, they ran up for a three-way-jumping-spinning-singing happy hug, which Lauren thought might get us kicked out of Pin-Up Bowl. They just happen to be generous and crazy and serious. Once we realized that they were actually gonna make it, the next day over beers at Side Project, I asked if I could come help them build it and they said, 'Sure, as long as you call it Stars and Strikes, since it's gonna be an American-made American oak foeder won during a bowling game,' which seemed reasonable.


So we flew back to Ft. Collins and I told wood cellar manager Eric Salazar that I had something interesting to tell him. When I did, he said he 'loved it,' and that we'd figure out a nice spot for it. So, the next week I flew back to St. Louis for two days, and brewer Ryan Gillette, who had befriended the Foeder Crafters months earlier, joined in as well. We lent a hand sanding, toasting, tossing and driving hoops on ol' 'Stars and Strikes,' and now she's finished and we're awaiting her arrival at the Mothership into the Foeder Forest where the brewing department will take wonderful care and make delicious sour beers.

[Note: The foeder arrived earlier this week, and on Friday we're toasting to the new addition to the wood cellar].