For the first time ever, New Belgium is producing its coveted special edition cruiser bikes in the United States, using Detroit Bikes, a Detroit-based bicycling manufacturer and North America's largest bicycle producer. Just in time for warmer weather, the bikes are now hitting the streets through New Belgium fundraisers, giveaways and as one-year anniversary gifts to New Belgium co-workers. The partnership has created new manufacturing jobs in Detroit with the company doubling its workforce from 20 to 40 employees.

"As I started to think about production and making bikes back in 2011, Detroit was the best place to look," noted Zak Pashak, founder and president of Detroit Bikes. "Detroit has such a rich history of production and certainly we've benefited greatly with a skilled local workforce. This partnership is hugely exciting because it marks a big shift in the industry and an amazing show of support for American bike manufacturing."

Detroit Bikes will produce about 2,500 cruiser bikes during this first year. So far about 1,000 bikes have been released, with about 40 bikes going out a day.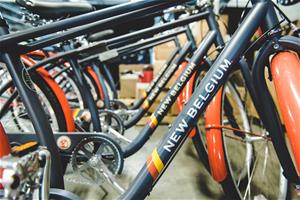 "Bikes are a big part of our history and culture so partnering with Detroit Bikes just made sense in every way," said New Belgium Brewing Bike Designer, Ryan McKee. "Zak first reached out to us and we were inspired by his vision. We've been looking to source US made bikes for some time which isn't easy at scale. We now get to work with a U.S. bike manufacturer to produce thousands of bikes, while also giving an economic boost to Detroit."
With this year marking New Belgium's 25th anniversary, an anniversary celebration will be held with Detroit Bikes later this summer.