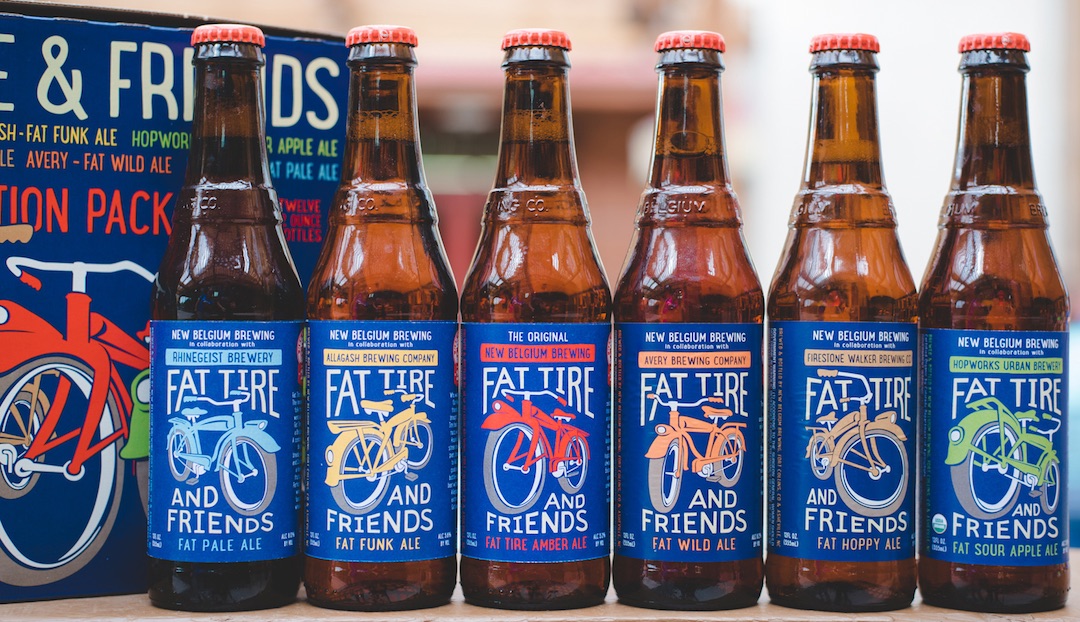 We really wanted to do something special in celebration of New Belgium's 25th anniversary, so we got together with friends from five different breweries, gave them the keys to the Fat Tire recipe, and said, "Surprise us." The result is Fat Tire & Friends, a collaborative variety pack featuring five unique spins on the original fave, plus a couple bottles of Fat Tire for good measure.
This is the wildest pack we've ever released, and probably the wildest variety pack of the year. There's Avery Fat Wild Ale (brewed with Brettanomyces Bruxellensis Drie), Allagash Fat Funk Ale (bottle conditioned with Brettanomyces Allagagensis), Hopworks Fat Sour Apple Ale (brewed with Lactobacillus and apple juice), Rhinegeist Fat Pale Ale (with Belgian yeast and fruity hops) and Firestone Walker Fat Hoppy Ale (featuring the likes of Mosaic, Citra and Mandarina Bavaria hops). And, of course, the original Fat Tire. Sure there's a lot going on, but fear not: There are methods for tackling such a bold variety pack. Here are a few tips:
THE AROUND THE WORLD
We've talked about this strategy before, and it's probably the most level-headed approach to any variety pack. You start with one beer (pick a beer, any beer), drink it, move on to a new one, drink it, and continue the not-so-complicated process until you've tried every one. Then, repeat—but not in one sitting.
THE HOP-OBSESSED
Sure, this pack leans on wild, but there are plenty of hops to enjoy. If you're an uncontrollable hop-obsessed beer geek, you're probably going to dig right into the assertively hoppy and colorful Firestone Walker contributions first. That's totally fine! After that, migrate to the Belgian-but-still-hoppy Rhinegeist additions, and then to the hoppy (but balanced) original Fat Tire. Then, take a break. On your second go-around, dive into the wild beers, because wild beers are amazing and you'll totally love them.
THE I ONLY DRINK WILD BEERS
Well, you must spend a considerable amount of money on beer. Consider this variety pack our anniversary gift to you: It's packed with wild beers and still sells at the same price of a regular Fat Tire 12-pack. That's kind of mind-blowing, right? Anyway, if you're focused on wild and sour, here's how to order those beers by intensity: Start with Rhinegeist Fat Pale Ale and its nuanced fruity, peppery Belgian yeast. Next up is Avery Fat Wild Ale with hints of funk, caramel, sauvignon blanc, and herbal hops. After that, check out Allagash Fat Funk Ale and its delicious notes of banana, clove, white pepper and pineapple. Finally, lay into a bottle of Hopworks Fat Sour Apple Ale for its lacto bite and green apple notes.
THE DRINK THIS IF YOU LIKE THIS
Having trouble knowing where to start? Choose by comparison. Drink Firestone Walker Fat Hoppy Ale if you like IPAs. Drink Hopworks Fat Sour Apple Ale if you like Snapshot Tart Wheat. Drink Rhinegeist Fat Pale Ale if you liked Side Trip Belgian-style Pale Ale. Drink Avery Fat Wild Ale and Allagash Fat Funk Ale if you like both our wood-aged beers and Trippel. And, of course, drink Fat Tire if you like Fat Tire.
THE GRAB ME A WHATEVER
Life's too short to stress over which beers you should drink. They're all delicious (promise!), so dive in and have at it.