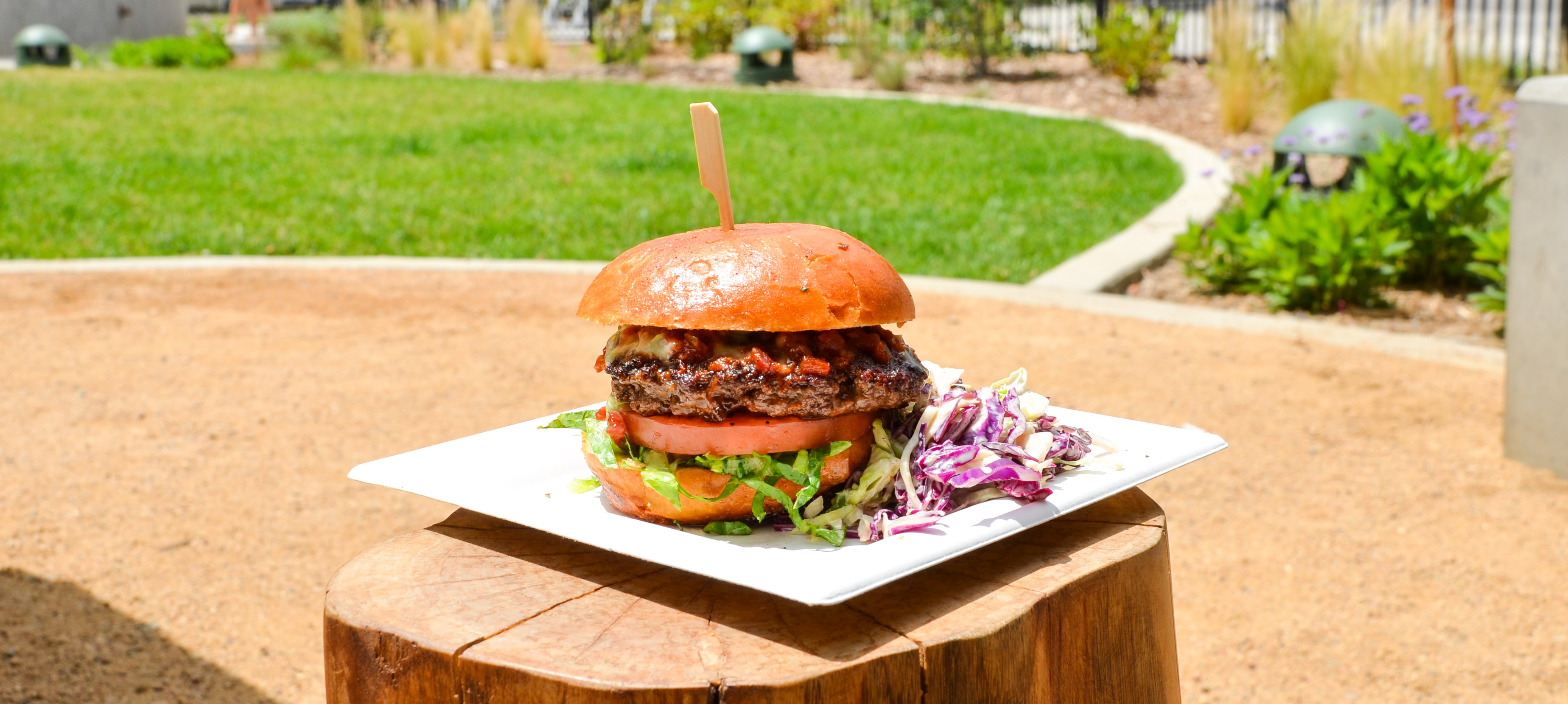 We love burgers. Yep, burgers are pretty swell. But, we recently discovered a burger to end all burgers, and now it's the only burger we ever want. Allow me to introduce you to the Bacon Jam Burger from local Fort Collins favorite food truck The Tramp About.

You can always find The Tramp About outside our Liquid Center on Fridays (sometimes they're here on Tuesdays, too), where they serve up gourmet street tacos, po'boys, Cubano sandwiches and a rotating selection of burgers. The Bacon Jam Burger is heavenly. Made with tomato-bacon jam and jalapeno aioli it's absolutely packed with flavor. Pro-tip: Pair it with a hoppy Citradelic Tangerine IPA, or draw out the burger's darker flavors with a roasty 1554 Black Lager.

THE TRAMP ABOUT'S BACON JAM BURGER
Ingredients:

Kaiser roll
Jalapeño Aioli (see recipe below)
Romaine Lettuce (Chiffonade)
Thick-sliced beefsteak tomato (seasoned with salt and pepper)
7-oz. beef patty
Tomato-bacon jam (see recipe below)

* Season beef patty with kosher salt and course ground black pepper, and cook in a hot large cast iron pan.
* While patty is cooking, slice and toast the outside of the Kaiser roll. After the beef patty is cooked to desired temperature, remove from pan and allow to rest.
* To build the burger, apply ½ tablespoon jalapeño aioli to each side of the Kaiser roll. Add romaine lettuce, seasoned tomato, and beef patty. Top with 2 vol. oz. tomato-bacon jam.

---------------------------------------------------
Jalapeño AIoli
4 cloves garlic
2 Tbs cilantro
2 deseeded jalapeños
1 Tbs honey
1 lime (zested and juiced)
2 egg yolks
2 cups canola oil
Salt and pepper to taste

Add garlic, cilantro, jalapeño, honey and lime to food processor and process for thirty seconds. Add egg yolks and slowly add oil, a little at a time, while processing. Continue until all is emulsified. Whisk in salt and pepper to taste.
---------------------------------------------------
Tomato-Bacon Jam
1/2 lb apple wood smoked bacon
2 lb canned diced tomato
1 yellow onion, diced
1 cup sugar
1 cup apple cider vinegar
1 Tbs salt
1 Tbs pepper
Slice bacon in ¼-inch strips and place in pot on medium heat. Cook while stirring until bacon is fully rendered and add diced onion. Sweat onion until translucent and add remaining ingredients. Stirring occasionally, cook ingredients for 45-minutes or until reduced to a thick consistency.