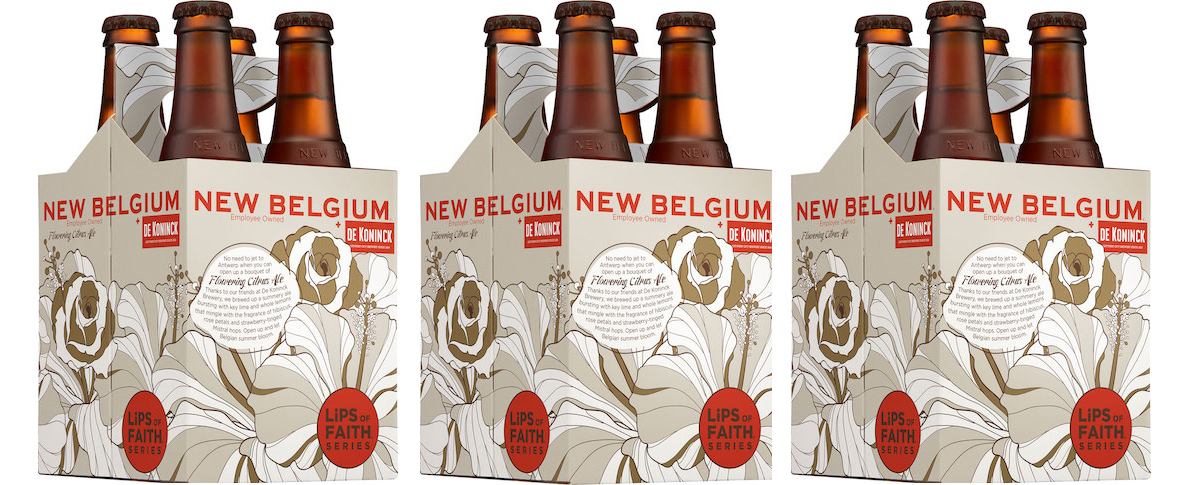 Our second Lips of Faith four-pack collaboration has finally arrived, and we can't wait to share this new beer with you. Called Flowering Citrus Ale and brewed with our pals at Belgium's De Koninck, it is, perhaps, one of the most elegant beers we've brewed to date.

To celebrate our 25th anniversary, each Lips of Faith release this year is a collaboration with a Belgian brewery that holds a special place in the heart of New Belgium. So what's the story with De Koninck? Here's what New Belgium's brewmaster Peter Bouckaert has to say:

"The brewery that brews De Koninck (old Flemish for "the king"), the inspiration for Fat Tire! We had to work with them for our 25th anniversary. Michel Moortgat (Managing Director of Duvel Moortgat) graciously accepted and Hedwig Neven (Duvel Brewmaster) and Dimitri Staelens (Quality Director of Duvel), longtime friends of mine, are the collaborating brewers.

From the get-go we established we wanted something different from our amber flagship, something aromatic, fresh and sour. Flowers came to mind for a beer to be brewed at New Belgium and at De Koninck for their summer seasonal 2016—the King offering flowers for our anniversary.

Through some decoctions, the flowers came in second place with rose petals and hibiscus adding to the complexity. First in aroma and flavor became the sourness: key limes with intense top notes of whole ground up lemons. Going from amber ale to royal flowery citrus ale is only a short distance, similar to the distance between Antwerp and Fort Collins."

That's right: Flowers and citrus (in case you hadn't guess that by the name). In total, this beer's brewed with hibiscus for a cranberry-like floral flavor and rose petals for a gorgeous floral aroma. Then there's key lime juice and whole pureed lemons to bring in that bright, biting acidity. It's a tart beer without any of the usual micro-flora suspects. And it's downright delicious.