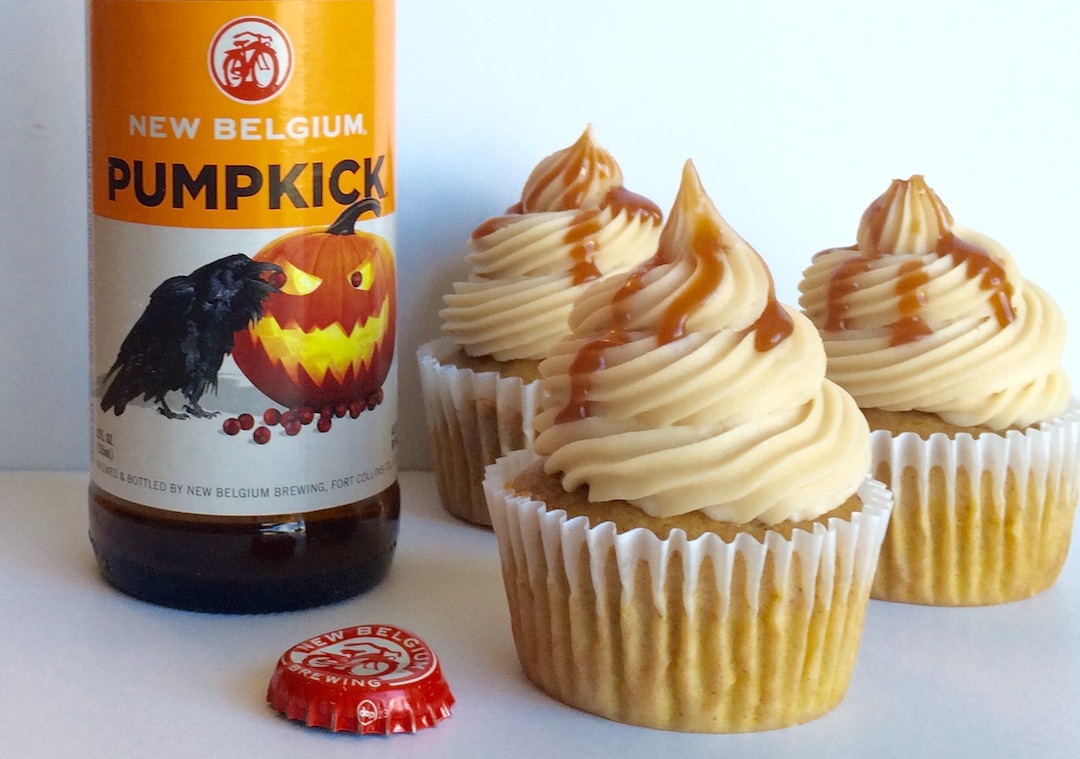 Our favorite pumpkin ale Pumpkick is finally back on shelves, and we're tipping back lots of the cranberry-lemongrass-pumpkin beer—especially while we're baking with the beer. That's right, we've got a killer recipe to sate your sweet tooth this season. A friend of the brewery shared this with us, and now we're handing it over to you. Behold: Pumpkin Ale Cupcakes with Bourbon Caramel Sauce and Bourbon Caramel Buttercream Frosting (deep breath!). Let's do this:

First: Find some Pumpkick near you.

Pumpkin Ale Cupcakes
Makes 12 cupcakes

2 cups cake flour
1 tsp baking powder
¼ tsp baking soda
½ tsp salt
1 tsp ground cinnamon
1 ½ tsp ground ginger
dash of ground cloves
½ tsp ground nutmeg
½ cup butter, softened
1 ¼ cup light brown sugar
2 extra-large eggs
1/3 cup buttermilk
¾ cup pumpkin puree
½ bottle New Belgium Pumpkick
* Prepare Bourbon Caramel Sauce first
* Line a muffin pan with cupcake wrappers and preheat oven to 350-degrees.
* Stir together flour, baking powder and spices, and set aside.
* In an electric mixer, cream light brown sugar and butter on medium-high until fluffy.
* Add eggs, one at a time, scraping down bowl in between.
* Combine beer and buttermilk in measuring cup and prepare to pour into batter alternately with dry ingredients.
* Reduce speed to low and alternate dry ingredients with buttermilk/beer mixture
* Finally, fold-in pumpkin puree just until combined. Fill wrappers with batter scoop, same about ¾ full and bake for approximately 18 minutes or until toothpick comes out clean from center.

Bourbon Caramel Sauce (prepare first)

½ cup granulated sugar
2 Tbsp water
¼ cup + 2 Tbsp heavy cream, at room temperature
1 ½ Tbsp butter
¼ tsp salt
½ tsp good bourbon (or vanilla extract, if you prefer)

* In small sauce pan fitted with candy thermometer, heat sugar and water on low while stirring constantly with a silicon whisk or wooden spoon (avoid metal utensils).
* Continue heating and stirring until sugar completely dissolves. Once dissolved, increase heat to medium-high and stop stirring. Closely monitor candy thermometer and allow to heat to 350-degrees, occasionally running wooden spoon or silicon spatula around pan to loosen crystals that may adhere to pan.
* As temperature approaches 350, sugar will begin to darken in color. Once caramel is appears amber, remove from heat and prepare to quickly stir in remain ingredients.
* Wearing an oven mitt, slowly pour in heavy cream while whisky constantly. If sugar crystals seem to have formed, simply continue whisking briskly until dissolved. Add butter and continue whisking. Once smooth consistency is achieved, add bourbon and salt and stir to incorporate.
* Transfer caramel into heat safe bowl (preferably pyrex) and allow to cool at room temperature for 1-2 hours.

Bourbon Caramel Buttercream Frosting

1 cup butter, slightly softened to room temperature
½ cup Bourbon Caramel Sauce
3 ½ cup powdered sugar
1 tsp vanilla extract

* In an electric mixer, beat the butter on medium-high until light and fluffy, about 3 minutes.
* Add the powdered sugar 1 cup at a time, scrapping down in between.
* Once sugar is incorporated, add vanilla.
* Gradually add in ½-cup of the caramel sauce, reserving the rest to drizzle over top later.
* Once cupcakes have cooled, frost and then finish by drizzling with extra caramel sauce.