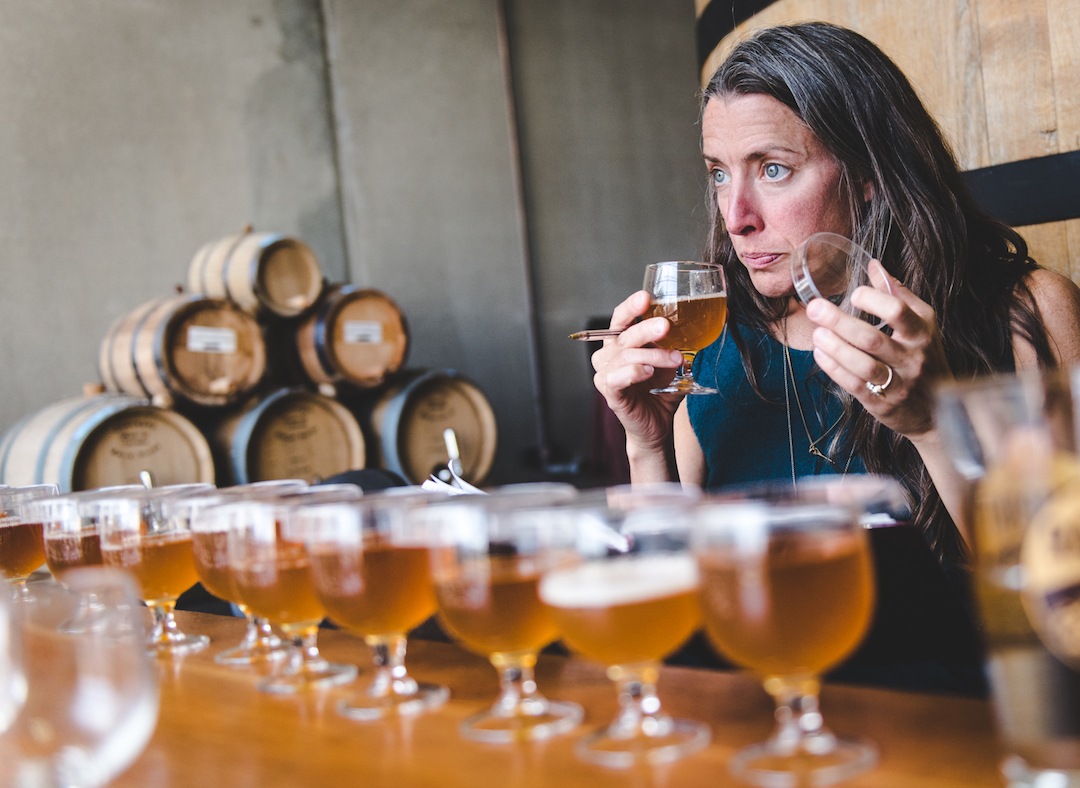 Summer means one thing for New Belgium's wood cellar team: Time to begin blending trials for Le Terroir, the dry-hopped, wood-aged sour that lands September 1. First created back in 2003, Le Terroir was an ahead-of-its-time idea, merging citrusy, tropical hops with sour beer; two burgeoning trends at the time brought together by blender Lauren Salazar. In anticipation of this year's release, we sat down with Salazar to talk about the history of Le Terroir, the hoppy sour movement, and this year's vintage.
Walk us through the origin of Le Terroir.
Back in 2003, [brewmaster] Peter Bouckaert made the second base beer in our sour program called Felix, but since we only had four foeders at the time, there was only room to fill one, which was foeder No. 3. After it spent time acidifying in the foeder, it occurred to me that I didn't know what to do with sour Felix. But, during hop selection that year in the Pacific Northwest, while rubbing Amarillo for the first time, I was blown away that the notes were the same as in Felix. So, I got some Amarillo hop pellets and tested the aromatic qualities, and then we used it to make test batches of Le Terroir. Back then, I was making a lot of little Le Terroir batches for a while, and was amazed by the matching flavors and aroma: tropical fruit, peach, etc.
[See how Firestone Walker's Matt Brynildson and Russian River's Vinnie Cilurzo were involved in the origins of Le Terroir]
What's the story behind the name?
It's a little tongue-in-cheek. Wine people talk about the terroir of grapes so much. We kind of joke around about the terroir here in New Belgium's wood cellar, but on the other hand, you should consider the terroir of our sour beer: This place, these foeders, these bugs, everything that makes the micro-climates taste like they do.
Then, with Amarillo being a proprietary hop, that also speaks to terroir, having that one varietal grown right there. We often don't grasp how much of an agricultural product beer is, when ingredients like hops are so in tune with the farm, the seasons, the growers.
You created a beer way ahead of its time, so what's your take on the trend of hoppy sours today?
I think the dry-hopped sour trend is an extension of the IPA craze. IPAs went from just bitter to really hop-forward in character. The hop exploitation and experimentation is key. I think that at this point with the sour beer brewing community, it's really about just trying everything.
Can you tell us the difference between a hoppy wood-aged sour like Le Terroir, and a hoppy kettle sour like last year's Hop Tart?
Being able to taste them side-by-side is really fun. It really lets you see how really refreshing kettle sours are, and how choosing the perfect hop is very important with those. I think you're less limited when you add the complexity of a barrel: You have a lot more attributes that you can compare, contrast and dovetail. Where as kettle sour, it's lemon. You'd be foolish to use certain hops because it just wouldn't work. With wood, when you have the nuances of oak, vanilla, tropical fruits, stone fruits, wild bretta character, that's when you can really start pondering a variety of hops.
Given that sour beers are ancient and hop-forward beers like pale ales have been around since the late 1700s, why do you think it took so long to marry the two ideas?
I think it was just that hops and sours were pretty mutually exclusive. Belgian sour beer producers are very traditional and historically bound. American craft brewers don't really have those shackles, maybe to the point of irreverence. That said, it's a funny thing when you ask yourself if you could hop a sour beer, and then immediately go to should you hop a sour beer. For us older folks, we have that trepidation of going too far and completely forgetting where we come from. When you go back to Belgium, they might look at you and just be like, "No."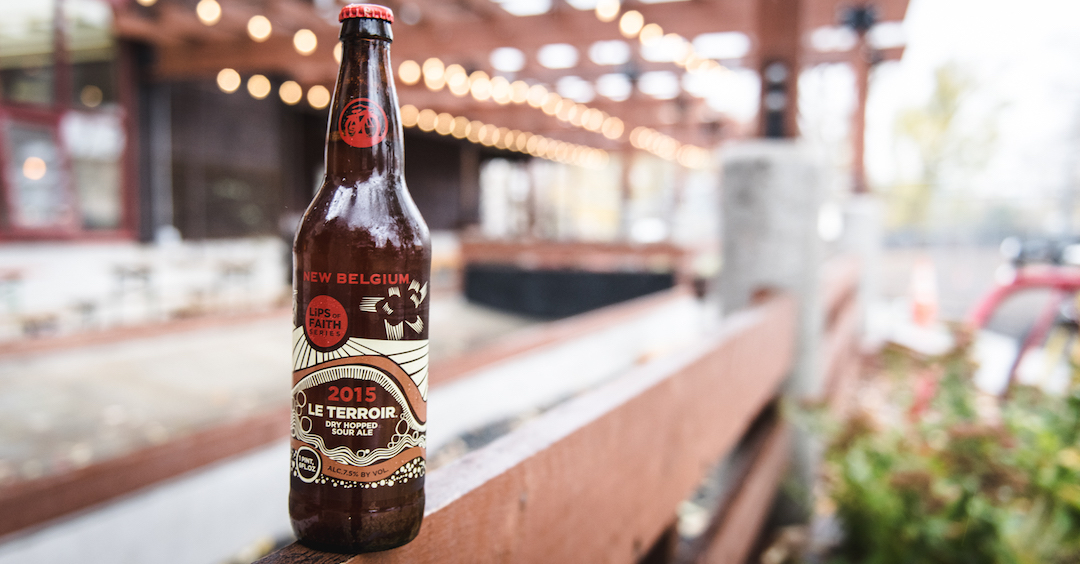 Last year's release featured Amarillo and Galaxy hops. Keep reading to see this year's hop blend.

For this year's release, how far out did you first start thinking about the Le Terroir blend?
[Lauren opens tasting notebook] I write things like "Terroir Thoughts'" throughout the year as I taste through the foeders. I first started thinking about Felix-based Tart Lychee in January and immediately wrote arrows next to my notes, which hints at Le Terroir since it's the next sour to use sour Felix. I really started thinking about the blend back in March. I was nailing Tart Lychee, but making sure I wasn't overusing foeders that I might later use for Le Terroir. If I got greedy on Tart Lychee, it would have future repercussions.
How many times do you taste from the foeders specifically for Le Terroir before you're confident enough to finalize the blend?
Four to five. It started in March, and I just did a tasting in May. I'll re-taste everything in there, and maybe once more, and then I'll do the final blend. I have this dance of trying to figure out how much beer I should make, because there's also an amount of beer our sales team wants. So, there's this internal struggle of not wanting to know that number because then there's this pressure to make that happen. So, I try to avoid hearing that. That way, the final blend is pure.
You swap out the accent hop each year: What's the hop combo for 2016 and why did you go that direction?
The hops are Amarillo, like always, and Crystal. I sent our raw materials team to the annual hop selection with a list of descriptors, so while they were sampling hops, if anyone mentioned those words, we'd pull it for the hop tea. After we did the blind tea test, I ranked them, and then found out the varieties. Crystal was the winner: It had melon rind, guava, and it was demure and classy. Then we test-blended in sour Felix already hopped with Amarillo. I felt like Crystal added a classy complexity.
Should we expect a similar profile to previous vintages?
Actually, no. Felix has been chased out of Wood Cellar 1 and into Wood Cellar 2 [as part of the wood cellar expansion], so for the most part it's all been aged in new foeders. All the Felix beers will start tasting like Wood Cellar 2: They have tons of oak, forest floor, there's a lot more stone fruits, Sauvignon Blanc, pear and plum. There's also bright citrus, and we've never had bright citrus come from Wood Cellar 1.