There's a little secret that brewers often keep to themselves. Most are also phenomenal cooks. Maybe it's their appreciation of technique, respect for flavor development, or maybe it's all those organic chemistry classes. Either way, they know their way around the kitchen and when you ask them to create dishes to pair with the very beers they brew, magic happens. So, we asked our Pilot Brewer, Cody Reif, and Wood Cellar Blender, Lauren Limbach, to create their favorite holiday dishes to pair with a few New Belgium classics. While great apart, they're even better together.
Spatchcock Chicken with Herbs
Paired with 1554 Englightened Dark Ale
Roasted chicken and 1554 are both classics, which makes them an absolute perfect combination for a chilly winter evening. The crispy, roasted whole chicken compliments the lightly smoky and dark malt character of 1554. The sweetness from the carrots and onions pairs perfectly with the rich body of the beer. Plus the rosemary, thyme and sage help accentuate the nuanced herbal hop profile.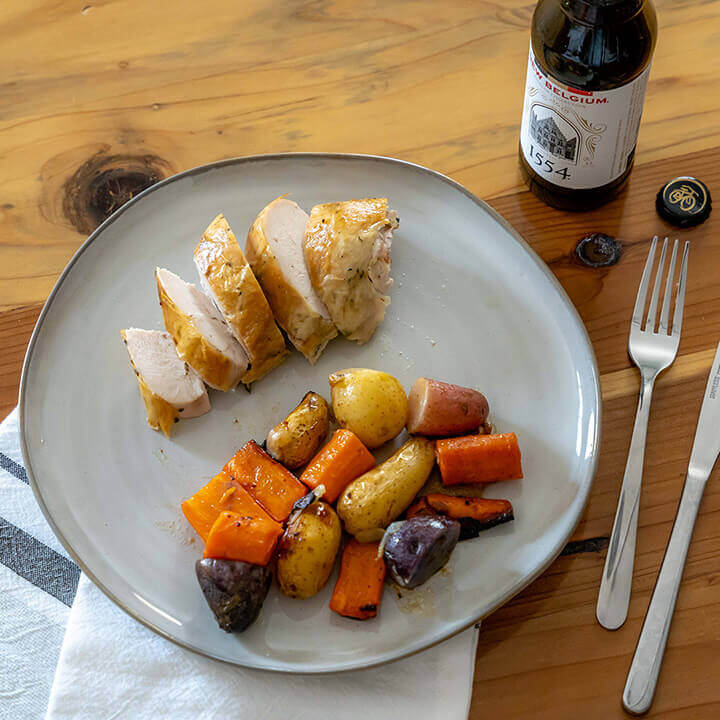 Ingredients
3-4

lb

roasting chicken

​

2 tablespoons salt

​

½ teaspoon thyme

​

½ teaspoon rosemary

​

½ teaspoon sage

​

1/4 teaspoon black pepper

​

1 tablespoon olive oil

​

1

lb

washed fingerling potatoes

​

1

lb

peeled carrots cut into slices

​

1 medium white onion cut into large pieces

​
Recipe

​
Take a thawed whole chicken pat it dry with a paper towel and remove the back bone with a pair of kitchen shears or a sharp knife. Be careful it can take a bit of force. ​
Flatten the chicken by putting pressure on the breast with the palm of your hand. Tuck the wings behind the breast and position the legs so they point to the sides of the bird.​
Mix salt, thyme, rosemary, sage and pepper in a bowl.​
Starting at the top of the breasts, loosen the skin on the chicken. You'll have to tear the membrane between the skin and the breast. Start working ~3/4 of the salt and herb mixture onto the breasts under the skin. If you can do it without tearing the skin, try and get all the way to the thighs as well through the same spot. ​
Add the remaining salt and spice mixture to the outside of the chicken included the rib side. ​
Put the chicken on a baking pan or anything larger enough to hold it. Make sure whatever you put in in have sides in case a little moisture drops off the bird.​
Put it in the fridge for 8-24 hours.You don't need to do this step but it makes a big difference in the texture of the chicken. Especially the breasts. High recommended! Even if it just for an hour or two.​
Preheat Oven to 425 degree.​
Spread potatoes, carrots and onions out on a roasting pan that is large enough for your chicken to fit into without hanging over the edge. ​
Brush the olive oil on the top of the bird including legs and wings.​
Put the chicken on top of the vegetables and put the pan in the oven on the middle rack.​
Bake uncovered until the thickest part of the breast reads 160 degrees Fahrenheit on an instant read thermometer. Rotate after approximately 20 minutes. You might be surprised how quick it cooks. Spatchcocking makes the cooking go really fast. It should be about 45 minutes but you'll want to start checking the temperature at 30 minutes.​
Once you hit 160 degrees, pull the chicken out of the oven and allow to rest for 10 minutes before carving.​
Optional: This recipe works really well on the grill too. Set up a two stage grill! Start with the legs pointed towards the heat. Rotate the bird so the breasts are pointed towards the heat when the temp hits 120 degrees Fahrenheit on an instant read thermometer. Pull it off when the temperature hits 160 degrees and allow to rest for 10 minutes before carving. ​
No matter how you cook it, this recipe pairs perfectly with a 1554 Enlightened Dark Ale.
Hoisen-Glazed Porkchop
Paired with Fat Tire Amber Ale
This has been a favorite pairing for over two decades. It stands the test of time and it's fast, simple & satisfying. Think of hoisin like a type of BBQ sauce, but deeper, sweeter and saltier, oh yeah. Our Wood Cellar Director, Lauren Limbach, loves sweet and salty combos, they always work. Fat Tire's sweet caramel malts and fruity yeast esters meet fruity sweet hoisin and pineapple sauce and then meet the ultimate enhancer- salt (hoisin is salty by nature) and umami. Umami literally translates to pleasant savory taste and here it comes from from the big garlic dose, ginger and hoisin sauce. This is my Sunday night perfect pairing comfort meal.

Ingredients

​
3 - 5 garlic cloves, minced

2 Tbsp. olive oil

​

¾ cup hoisin sauce

​
2-3 Tbsp. pineapple juice
1 Tbsp. fresh ginger microplaned or minced
1 Tbsp. chili paste of sriracha
1/8 Tbsp. of Chinese 5 Spice

Kosher salt

​

Freshly ground black pepper

​

2 1½"-thick bone-in pork rib chops (about 1 lb. each), brined in salty water for 30 minutes - 6 hours.
Recipe

​
Brine pork chops in very salty water for 30 minutes, up to 6 hours.
Peel and finely mince garlic cloves. Heat oil in a medium saucepan or cast iron over medium. Cook garlic, stirring often, until golden brown, about 2 minutes.​
Add hoisin sauce, pineapple juice, ginger, chili paste or Sriracha, and Chinese 5 Spice and whisk until smooth. Cook, whisking occasionally, until sauce is thick and smooth, about 5 minutes. Season with salt and pepper; let cool. ​
Season 2 1½"-thick pork chops all over with salt and pepper. ​
Place in a large resealable plastic bag and add half of the sauce. Transfer remaining sauce to a medium bowl; set aside. Seal bag, pressing out air, and turn to coat pork. Let sit at least 20 minutes. ​
Preheat a large skillet, preferably cast iron, over medium. Remove pork from bag with tongs, shaking off excess marinade. Sear pork chops 4-5 minutes, then turn and cook on the other side for about 4-5 minutes.
Continue to cook, turning about every minute, until chops are deep golden brown and charred in spots and a meat thermometer inserted into the thickest part registers 135°, 15–18 minutes (cooking time will depend on thickness of chops). ​
Transfer to a cutting board and let rest at least 5 minutes (pork will come to 145° as it sits). ​
Slice along bones to remove, then slice chops into ½"-thick pieces. Serve pork with reserved hoisin sauce spooned over. ​
Recommended side dish is sauteed broccoli with garlic, served over jasmine or brown rice.
Crack open a Fat Tire Amber Ale, and enjoy!
Honey Grilled Balsamic Glazed Apples Over Vanilla Ice Cream
Paired with Sour IPA
Sweet and Sour with a pinch of salt. Seasonal fresh fruit magnifies the mix of fruit aromatics in this juicy hop bomb. Grilling fruit caramelizes it to new sugary heights only to be tempered by the juicy and sour notes of the wood-aged golden portion of the beer and the deep notes of balsamic. Adding the layer of ice cream does the impossible- creating a creamy sensation when you take that immediate sip after each bite- this pairing has it all!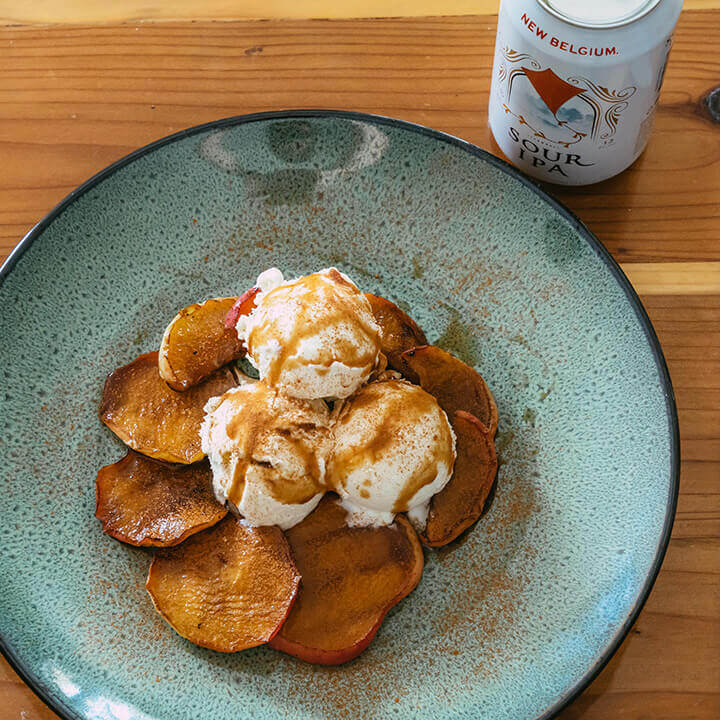 Ingredients

​
1/2 cup balsamic vinegar

​

1/2 cup local honey

​

Dash of salt

​

6 medium apples, or your favorite seasonal fruit

Vanilla ice cream
Recipe
In a small saucepan, combine vinegar, honey and salt; cook and stir over low heat until blended, 2-3 minutes. Reserve ~1/3 cup mixture for brushing apples.​
Bring remaining mixture to a boil over medium heat; cook and stir just until mixture begins to thicken slightly (do not overcook), 4-6 minutes. Remove from heat.​
Brush apples with some of the reserved balsamic mixture. Grill, covered, on an oiled rack over medium/medium high heat until caramelized, brushing occasionally with remaining reserved balsamic mixture, 6-8 minutes on each side. Serve with glaze and ice cream, sprinkle a pinch of kosher salt on the top.​
Grab a Sour IPA to perfectly round out the dessert