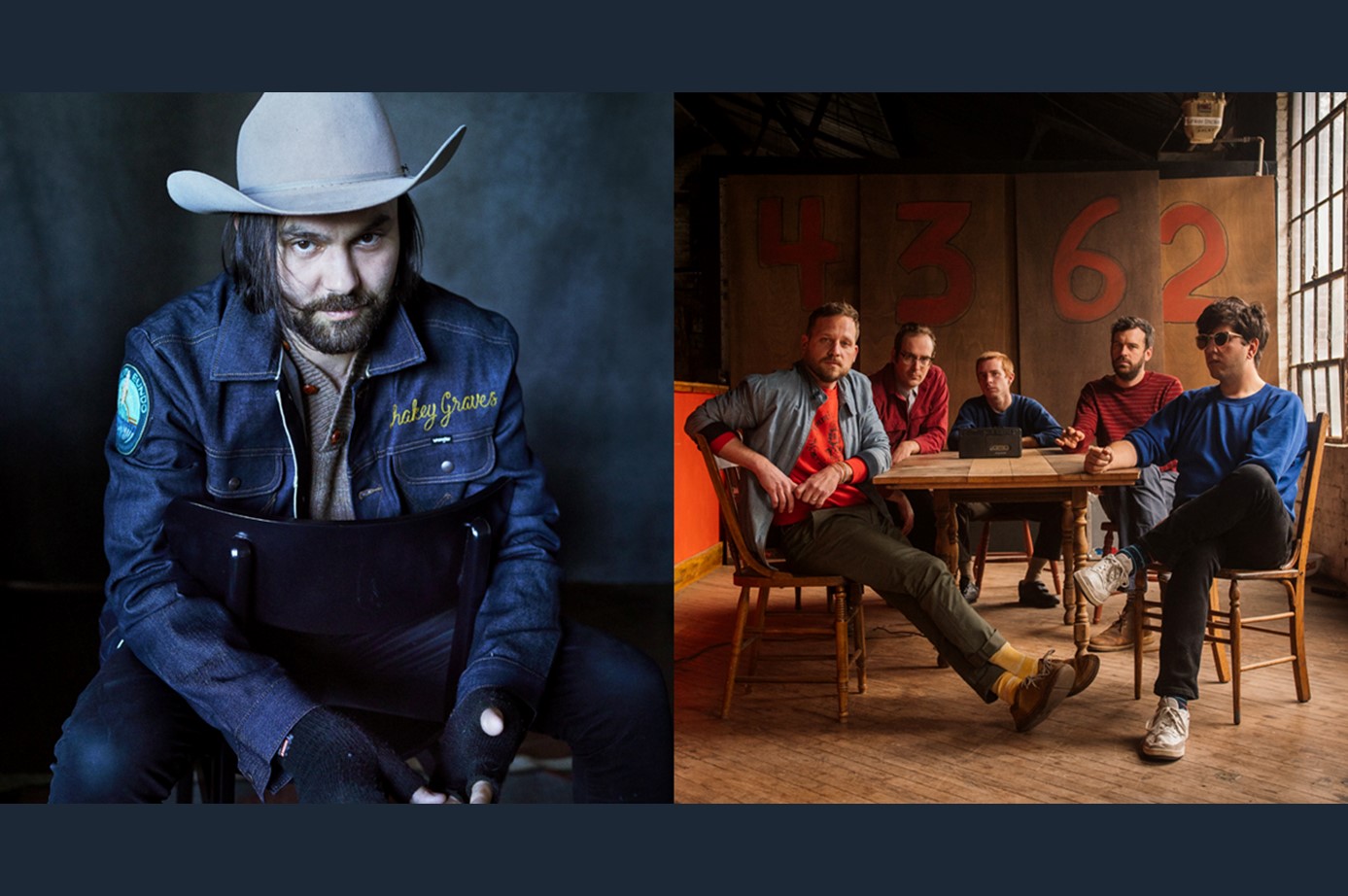 Shakey Graves
Back in December 2017, Shakey Graves proclaimed on his Twitter page, "Next album. New sound. Sell your suspenders." The tweet was tongue-in-cheek, but Alejandro Rose-Garcia, the Austin native who's been plying his trade as Shakey Graves since 2007, was making a dead-serious point about his latest album, Can't Wake Up (Dualtone, out May 4). This ambitious, audacious work heralds an artistic metamorphosis for the 30-year-old veteran, whose risk-taking in painting outside the lines has been rewarded tenfold. "This record is the most I've ever intentionally worked on a project, musically speaking, in terms of the scope of it and how much thought went into it," he says. "It's a dense album; there's a lot of information going on."

Dr. Dog
"I feel like I'm in a totally new band right now," says Dr. Dog guitarist/singer Scott McMicken. It's a bold declaration considering he's been co-fronting the beloved indie outfit for a decade-and-a-half, but it cuts straight to the heart of the intense and transformative experience behind the group's brilliant new album, 'Critical Equation.' The most infectious and adventurous collection Dr. Dog has laid to tape yet, the record was born from a journey of doubt and discovery, a heavy, sometimes painful reckoning that ultimately brought the band closer together with more strength and clarity than ever before. Call it an existential awakening, call it a dark night of the soul, whatever it was, it fueled one of the most fertile creative periods in the group's history and forced them to confront that timeless question: what do we really want?
Support:
Liz Cooper & The Stampede
Ticket price includes applicable sales tax.
FAQ's
NEW BELGIUM INFORMATION
PARKING – Because New Belgium Brewing is located nearby walk-able West Asheville, the River Arts District, and Downtown, the Brewery has no dedicated onsite parking for large scale events. We encourage biking and walking to the show, as the area is very pedestrian friendly, and it's also an easy walk from Downtown! Uber and Lyft are also encouraged and easily attainable in the Asheville area! Don't want to do all that walking? See the next section!
FREE SHUTTLE SERVICE – There will be a free shuttle service which picks up and drops off from downtown Asheville. The pick-up location is the gravel lot located at 84 South Lexington Ave. This is around the corner from the Orange Peel and across the street from Lexington Glassworks Studio Gallery. The Aloft City Parking Garage is the closest City garage. There is NO PARKING in this gravel lot itself – it is solely for shuttle bus loading and unloading. FREE shuttles will begin running from this lot at 5:00pm, and will run approximately every 15 to 20 minutes until 9:00pm, to take passengers to the concert at New Belgium. Shuttles will return to Downtown from NBB starting at 9:30pm through 11:00pm.
We ask in advance for your patience regarding shuttles – as those who attend large sporting events or festivals know, some wait time and lines are to be expected when the show is over. We will do our best to get you to and from the show as quickly and efficiently as possible.
For those taking the shuttle or walking from downtown, parking is available in various public lots in Downtown Asheville, as well as in street parking metered spaces, which is free after 6pm.
PREFERRED PARKING PACKAGE with ONSITE PARKING – Click here to learn more! If you have purchased a Preferred Parking Package, please have your "print-at-home" ticket or eTicket ready to show a parking attendant. If you have Will Call parking tickets, please have your confirmation email with you. The parking attendant will give you a parking pass to display in your car and direct you to your preferred parking spot!
RAIN OR SHINE
Remember, all outdoor shows at New Belgium are RAIN OR SHINE. Please plan accordingly. Follow the forecast here! In the event of rain, umbrellas are allowed and a limited number of ponchos will be available for purchase.
IDs & TICKETS
Remember to bring a VALID ID if you're over 21. Accepted ID's include NC Driver's License or ID, Passport, Military ID, and Out of State Driver's License (Out of State ID cards will NOT be accepted)
Please have your print at home or digital tickets ready when you arrive. Will Call tickets can be picked up at New Belgium the day of the show starting at 4pm or at the Orange Peel Box Office any day leading up to the show during normal business hours and the show day from 12pm – 5:30pm.
Kids 2 and up require a ticket.
ATMs
All of the bars accept cash and credit cards, but if you need some cash, ATMs will be available inside the event space.
FOOD TRUCKS
We'll have a variety of delicious food from local food trucks on site to take care of those hunger pains! Yum!
Root Down
CeCi's Culinary Tour
Amazing Pizza Co
Gypsy Queen
Mountain View BBQ
GUEST AMENITIES
Thank you to our friends at Charlotte Street Computers who will be on-site at all outdoor shows and will provide the following complimentary amenities at their ReCharge Station (look for the Charlotte Street Computers banner on their tent!):
Phone charging station
Hand sanitizer
Bug Spray
Sun screen
Ear plugs
RULES
No chairs or other camping furniture, unless required for medical disability or for those who cannot stand for a concert duration, for physical reasons.
No blankets.
No professional photography, cameras, or flash.
No outside food or beverages. Empty water bottles will be allowed.
No pets or animals (except legal service animals).
All bags subject to search.
No fireworks, weapons, or other dangerous items.
No illegal substances.
No coat check or lockers.
No re-entry.
Smoking is discouraged. If you must smoke, be respectful to the people around you.