GOOD WATER MEANS GOOD BEER
Water is the main ingredient in beer, and a healthy & reliable watershed is something we care deeply about, as brewers and community members. We know that good water makes for good beer, and we honor the mighty Cache la Poudre and Colorado Rivers that provide for us in Fort Collins, and the countless streams that feed the 20,000-acre forested watershed providing our water in Asheville.

As with all of our sustainability efforts, we believe a responsible approach to water includes both action + advocacy.
We take action by working to dial in our efficiency at our two locations. We also think outside our own walls, and advocate for sound policy and programs that will protect our rivers and streams.

Water conservation is a metric which can challenge brewers. Hoppier beers, a larger variety of beers overall, and demand for more bottles than kegs have kept our water use ratio right around 4:1 (barrels of water per barrel of beer) in recent years. We have identified some key projects to implement in the coming years as we strive for a 3.5:1 ratio, including production improvements championed by our brewing team, and testing the reuse of treated process water for industrial applications at our Fort Collins brewery.

As we ramp up production at our new brewery in Asheville, North Carolina, we know that our water use ratio will struggle in the short term as production increases, but we have our eyes on the prize to achieve a 3.5:1 ratio by 2020.
More About Hops & Water Use
Hoppy beers, by nature, can require a bit more water to brew. Put simply, it takes water & energy to extract the good aromas & flavors from hops. Dry hopping, in particular, can increase water intensity in brewing, as there is more movement of beer and more tank cleaning involved in dry-hopped beers, both of which require additional water.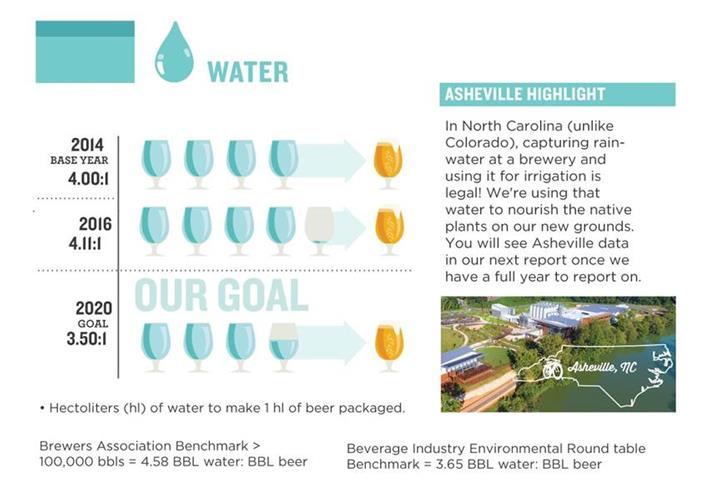 Superhero Horizontal Spacer Water Advocacy
In order to ensure that the rivers we depend upon to thrive - and make beer - remain healthy, it is important to combine our conservation actions with strong and strategic support of other efforts to protect our waterways. We're all in this together, and we rely upon smart policy and strong non-government initiatives to succeed.

Through our Philanthropy and our Advocacy efforts, we support great work that others are doing to protect and restore the waterways we depend upon to brew beer in Colorado and North Carolina. To read a bit more about our Advocacy efforts, check out our Policy page. To learn about our long-standing Philanthropy program, please visit it here.


An early and shining example of our advocacy success is Save the Colorado.

We founded Save the Colorado with a few friends back in 2009. Now, it is an independently-run 501c3 working hard to protect and restore the Colorado River and its tributaries from source to sea.