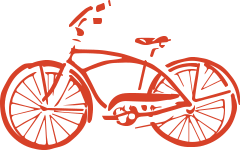 We knew the iconic New Belgium cruiser bike was missing something…turns out, it was a Bell.
Today, we're so excited to welcome Bell's Brewery to the New Belgium family!
This milestone represents the coming together of two craft leaders that share a commitment to world-class beer and a people-first approach to business. Bell's decision to join New Belgium was based on trust in our steadfast commitment to the stewardship of Bell's iconic beer brands, our commitment to Bell's ongoing operations at their Kalamazoo and Upper Hand breweries, as well as Bell's excitement around the opportunity further accelerate their own social and environmental impacts. Bell's arrival expands our combined company's extraordinary lineup of brands to include Voodoo Ranger, Fat Tire, Two Hearted Ale (voted the Best Beer in America four times running), and Oberon Ale, among other favorites.