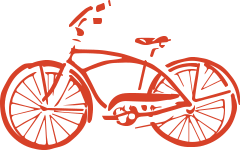 Tableside Service Is Back!
Beer is back! That's right, our beautiful outdoor space is now open for tableside service. To make sure our facility is safe for staff and guests, we have a few easy-breezy guidelines in place:
1. All our staff will be wearing masks. You will also be asked to wear a mask in all areas except when you are seated at your table. Trust us, it's what all the cool kids are doing.
2. No reservations required. Please check in with the host upon arrival and tables will be sat on a first come first served basis. May the odds be ever in your favor.
3. Please do not move tables and we ask that you remain at your table unless you are using the restrooms/ordering food from the food trucks. It's like playing a game of "the floor is lava" (except with more beer and less lava.)
4. We will be upholding high physical distancing standards. Please remain at least 6 feet apart from other parties and follow the social distance markings when using the restrooms and visiting food trucks. You know the drill.
5. If you have children in your party they must stay at your table during your visit, except for when visiting the restroom. Wrangle those kiddos!
6. You can view our current draft list online. All beers will be served in single use cups and we will not be offering flights at this time. It's like a solo-cup college party….but with better beer and honestly better cups too.
7. Stay off our lawn!!! Just kidding, we would never talk to our customers like that. We're fun-loving brewers, not grumpy grandpas! That said, we know you love our lawn, we do too, but there will be limited lawn accessibility at this time.
8. Finally, we kindly ask that you clear your table before heading out.
We truly appreciate your business and we can't wait to see you!